Wild Earth dog food is made entirely without animal ingredients – it is clean protein for pets.
As a dog owner, you're responsible for your pup's health and wellness. The best thing you can do to keep your dog healthy is to provide him with a nutritious diet.
The most important element in a healthy diet for dogs is protein, particularly complete proteins that contain all 10 essential amino acids your dog needs.
In many dog foods, that protein comes from animal products, but Wild Earth is different.
Wild Earth offers "high protein dog food made from clean protein." If you're tired of not knowing what's in your dog's kibble and you're ready to upgrade to a better diet, consider Wild Earth.
Choosing a high-quality, nutritious diet for your dog is important but we know it's not always easy. With so many dog food brands out there, it's tough to tell the good from the bad. You'll be glad to know we've researched and tested Wild Earth ourselves to bring you this honest and unbiased review.
Overview Of The Wild Earth Brand
Co-founded by Ryan Bethencourt and Ron Shigeta, Wild Earth is a meat-free dog food company launched in March 2018. The brand first hit the market with a teaser product: dog treats made from koji, a fungus traditionally grown on grains.
Today, Wild Earth offers a single dog food recipe along with several treats. Word has it they're also working on cat food made from lab-grown mouse meat.
The Wild Earth brand offers "dog food made better." This company believes animals deserve better than the typical commercial diet – the ones made with questionable ingredients and processed beyond recognition. As an alternative, Wild Earth makes this promise:
"For conscientious dog parents, Wild Earth delivers the world's most responsible high protein dog food to your doorstep. Made meat-free with ingredients that nourish your pet, our planet, and the desire to do the right thing."
At Wild Earth, yeast is the not-so-secret ingredient. This company believes better nutrition starts with better ingredients and it all comes down to yeast. Strange as it may sound, yeast is a source of clean, high-quality protein that is easy to scale and requires radically fewer resources to produce. Furthermore, the protein produced by yeast contains all 10 essential acids dogs need for balanced nutrition.
To put it simply, Wild Earth says, "it's every bit as nutritious as meat-based protein with none of the downsides."
Dr. Ernie Ward, chief veterinary officer, is the mind behind Wild Earth's meat-free formulation. This recipe was created with input from scientists and nutritionists as well as other industry experts, formulated in accordance with AAFCO recommendations for balanced nutrition. In addition to meeting AAFCO requirements, Wild Earth was tested in feeding trials with favorable results.
Where Are The Products Made?
Though Wild Earth provides plenty of scientific information to back up their use of yeast-based protein rather than meat, they aren't particularly forthright about how their products are made or where. When we opened up the bag of Wild Earth dog food, we found it looked pretty similar to any other kibble.
The Wild Earth company is headquartered in Berkeley, CA. After doing a little research, we found an article that mentioned the food would be distributed by United Pacific Pet (UPP) in California, Nevada, Arizona, and Hawaii in addition to being sold on the brand's website.
In testing the brand's customer service, we used the chat function on the website to ask where Wild Earth is made. We were informed that products are made in Kansas City, MO in a co-packing facility.
What Dog Products Do They Offer?
At this time, Wild Earth only offers a single recipe for meat-free dog food. When the company was first launched in 2018, however, they started with the release of their koji-based dog treats.
Wild Earth now offers superfood dog treats with koji in three tasty flavors:
Peanut Butter
Banana & Cinnamon
Strawberry & Beet
Wild Earth's meat-free dog food recipe is made with 31% natural clean protein, making it safe for dogs with meat and dairy-based allergies. In addition to being highly digestible, Wild Earth dog food is good for your dog's gut microbiome because it is supplemented with high-quality prebiotic and dietary fibers.
If you know anything about dog food, you're probably as surprised as we were to find that Wild Earth makes their products completely without animal proteins. Here's what they have to say about it:
"Dogs are not wolves. They've evolved alongside humans over tens of thousands of years, developing gut enzymes that allow them to digest a wide variety of foods. From a biological perspective, dogs lack most of the metabolic adaptations to a strict diet of animal flesh that is seen in true carnivores."
By Wild Earth's logic, dogs are omnivores rather than true carnivores (or obligate carnivores, like cats) which means that while their requirements for protein are still high, their bodies don't particularly care where it comes from. It matters more that the protein is complete, bio-available, and digestible.
In their own independent studies, Wild Earth found their dog food delivered high digestibility which suggests your dog absorbs all the protein and nutrients needed from the food with little waste.
Dried yeast is the first ingredient in Wild Earth dog food, followed by chickpeas, oats, and peas. You'll also find two concentrated sources of plant protein (pea protein and potato protein) as well as canola oil and sweet potato among the main ingredients.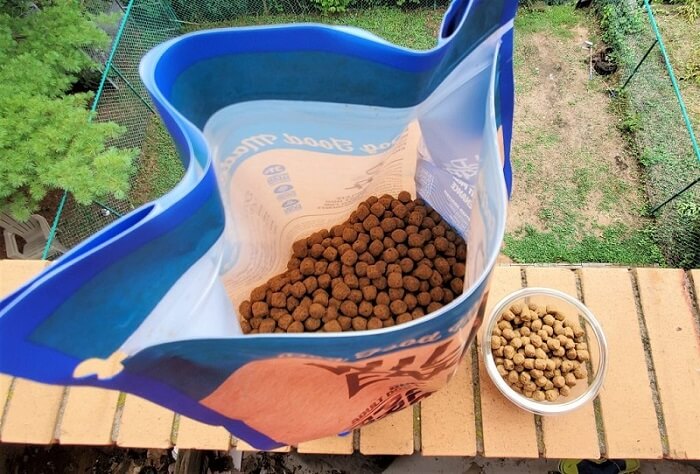 Is Their Packing Environmentally Friendly?
The history of the Wild Earth brand goes back several years to when co-founder Ryan Bethencourt watched a documentary on humanity's use of animals for food, clothing, entertainment, and more.
Bethencourt was so affected by the documentary that he became a vegan overnight (he was already a pescatarian at the time) and went on to found a dog food company that didn't involve feeding animals to other animals. His concern seems to be more for the ethics of it, though many vegans make the argument that choosing a plant-based diet is an eco-friendly choice as well.
Throughout the website, Wild Earth makes comments about "doing right by the animals we love and the planet we share with them." They also make mention of using sustainable sources for their ingredients. We were surprised in reading the FAQ section to find that Wild Earth packaging is not recyclable.
Our order arrived in a recyclable cardboard box, of course, but the food package itself is made from multi-layer laminate plastic. Wild Earth says, "We are working on getting a recyclable version that can meet our strict quality requirements" but that's about all they say on the matter.
How Much Does It Cost?
You won't find Wild Earth in your local pet store, but you can order it online for delivery right to your door. Wild Earth offers the option to make a one-time purchase (often with 10% savings) or you can subscribe to save 20%. Choose from deliveries every 2 to 8 weeks.
Wild Earth offers their meat-free dog food in small 4-pound and large 18-pound bags. The 4-pound bag costs $29 and the 18-pound bag costs $70. When you break it down to a per-pound price, you'll pay $7.25 per pound for the smaller bag but only $3.89 per pound for the larger bag. You can save even more by subscribing for regular deliveries.
Check below to see how Wild Earth stacks up against other dog food brands for cost:
Premium Dog Food Price Comparison

Food Type

Brand

Average Price

Price Per

Premium Dry Dog Food
Open Farm Homestead Turkey & Chicken Dry Dog Food
$87.99 for 24lbs.
$0.23 per ounce
Limited Ingredient Dry Food
Canidae Grain-Free PURE Limited Ingredient Dry Dog Food
$74.99 for 24lbs.
$0.20 per ounce
Premium Wet Food
Instinct Original Grain-Free Wet Dog Food
$22.14 for 6 (13.2oz.) cans
$0.28 per ounce
Freeze-Dried Raw
Stella & Chewy's Freeze-Dried Raw Chicken Dinner Patties
$51.99 for 25oz.
$2.08 per ounce
Fresh Food Subscription
The Farmer's Dog*
$45.57 per week
$6.51 per day
Dry Dog Food Subscription
Tailored Pet*
$46.80 for 20lbs. (5 weeks)
$1.34 per day
High-Protein Dry Dog Food
Wild Earth
$70.00 for 18 pounds
$0.24 per ounce
*Subscription price based on a 40-pound, neutered male dog 4 years of age
What Did Our Test Dog Think?
To test Wild Earth's dog food recipe, we ordered one of the small 4-pound bags. The order process was quick and easy, and our delivery arrived without any trouble. The package came in a standard cardboard box with the bag of dry food inside.
By now, our test dog Archie is used to the process and gets pretty excited when we bring a cardboard box into the house. He helped us open the box as usual and stuck his head in to see what was inside. After giving it a few sniffs, he looked up at us, intrigued. So, we opened the bag and poured him a bowl and set the bag on the floor while we snapped a few pictures.
Archie happily munched away while we took a few pictures and then another face entered the frame – one of our cats. Before long, there were two cats and Archie eating out of the bowl. Even the cat that refuses to eat anything other than cheap dry food was happy to eat as much as she could get. Our cats have shown interest in some brands of dog food before, but this was a new experience.
Overall, we're not really sure what we think about Wild Earth. We understand the argument for clean protein and the science seems to support the use of yeast as long as it's a complete protein, but we still prefer a meat-based diet. In terms of the product's taste, however, Archie (and our cats) didn't seem to find any issue with it at all.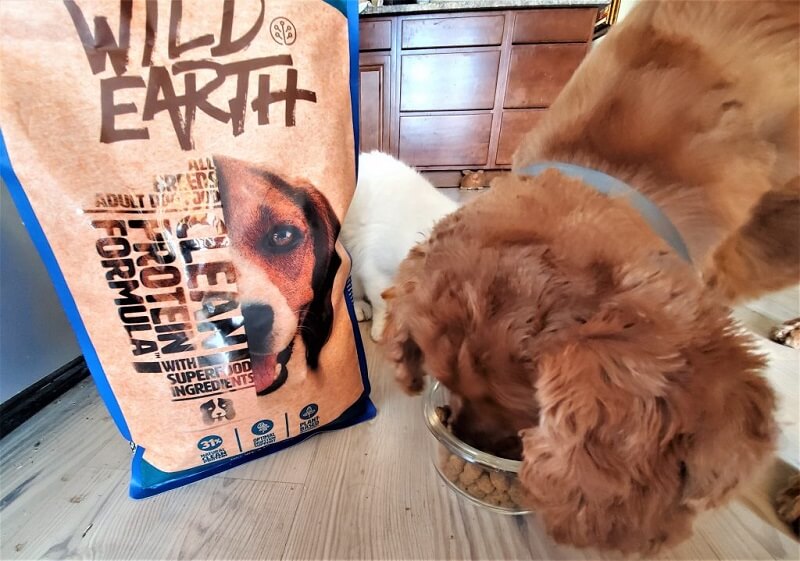 Wild Earth Dog Recalls
When evaluating the quality of a pet food brand, it's important to consider the brand's recall history. Product recalls can happen for any number of reasons, but they are often due to issues with the ingredients, the labeling, or the formulation. Though having a product recall or two isn't necessarily an indication of a poor-quality brand, a long list of recalls is definitely a red flag for us.
In support of their use of yeast instead of meat, Wild Earth says the following:
"The most dangerous ingredient in meat-based dog food is the meat itself. There have been over 180 recalls in pet food since 2009 and almost all of them are from the meat ingredients. Toxic chemicals, euthanasia drugs, animal growth hormones, and harmful bacteria are just some of the things found in meat in dog food today."
Whether or not you agree with a vegan diet for dogs, the Wild Earth brand holds up in its own argument with the fact that their products have not been subject to a single recall. Just remember that the brand is still very new, having only been released in the last few years.
Is Wild Earth Really Worth the Cost?
You shouldn't be surprised at this point to have us reiterate that high-quality dog food tends to be expensive. Better ingredients cost more, it's just that simple. But is Wild Earth a high-quality dog food and is it worth the price they charge for it?
It's difficult for us to answer this question plainly. We're firm believers in feeding dogs a diet that is natural, nutritious, and digestible. Protein is the number-1 requirement for a high-quality diet for dogs and we generally prefer recipes that use real animal ingredients as the primary source of that protein. We wouldn't normally back a recipe that doesn't, but Wild Earth makes a strong argument for the use of yeast in their recipes. Because yeast is a complete protein that provides all the essential amino acids dogs need, we have a hard time arguing against it.
All that being said, we just don't know enough about the issue to make a firm decision one way or the other. Wild Earth does seem to be backed by science and the digestibility and nutrition of their recipes are backed both by AAFCO nutrient profiles and independent feeding trials.
When it comes down to whether Wild Earth is worth the cost, it's really a question of the value of feeding your dog a premium dog food recipe.
The quality of your dog's diet is directly linked to his health and wellness, both now and for the future. If your dog's diet doesn't provide for his nutritional needs, he's more likely to develop malnutrition and chronic health problems that could affect his lifespan and drain your wallet with costly vet bills. Choosing a cheap dog food may save you a few bucks now, but it will cost you and your dog later.
Here are some additional benefits of feeding your dog premium dog food:
Improved and regulated digestion, less gas and diarrhea
Reduced stool volume and odor
Healthier coat with less shedding
Increased energy levels and vitality
Healthy weight loss (when needed for overweight dogs)
Improved dental health and oral hygiene
Better urinary health, reduced risk for urinary tract infections (UTIs)
To keep your dog happy and healthy for as long as possible, you should feed him the highest quality diet you can consistently afford. Keep reading to learn more about our experience with the Wild Earth brand.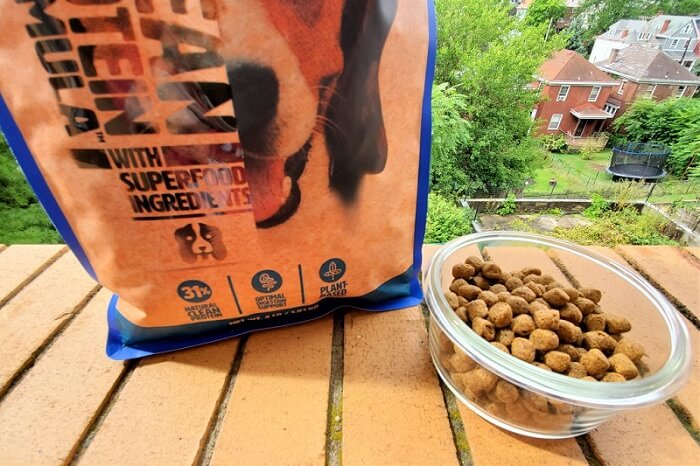 How Do You Order It?
Though you may not be able to find Wild Earth in pet stores, you can order it online very easily. Wild Earth offers customers the option to make a one-time purchase or to subscribe for additional savings. You'll receive 10% off your first one-time purchase or 20% off a subscription.
Here's the process to subscribe:
Click the "Make the Switch" button on the home page
Choose between a one-time purchase or subscribe and save
Pick between the 4-pound and 18-pound bags and how many
Indicate your preferred delivery frequency (every 2 to 8 weeks)
Click "Check Out" to fill in billing and shipping information
When you complete your order, you'll also create your customer account. From there you can track your order and place or make changes to future orders.
Customer Service
The process to order Wild Earth is very simple, but help is available should you need it. Wild Earth offers a chat function on their website and customer service is available by phone or email. To test the customer service, we used the chat function and asked where Wild Earth is made. We received a response within 5 minutes and the customer service rep was very helpful and kind.
Tips For Making The Transition
When changing your dog's diet, it's important to do it slowly over a period of days to prevent digestive upset. If your dog is already eating a dry food diet, transitioning onto Wild Earth shouldn't be an issue. You'll simply need to mix it in with some of his current diet to give his body time to adjust.
Here's what we suggest for transitioning your dog:
Days 1 thru 3:

Serve 25% Wild Earth with 75% your dog's current diet

Days 4 and 5:

Serve 50% Wild Earth with 50% your dog's current diet

Days 6 and 7:

Serve 75% Wild Earth with 50% your dog's current diet

Days 8:

Serve 100% Wild Earth dog food
Every dog is different, so yours might the transition more quickly. On the other hand, he might need to spend an extra day or two adjusting. If your dog develops loose stools, go back to the previous step for another day or two before moving on to the next one.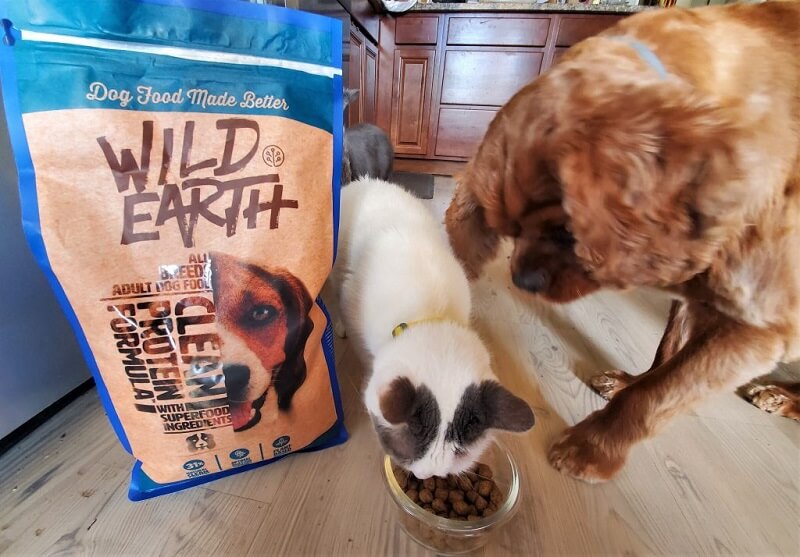 Pros and Cons
Your job as a responsible dog owner is to make smart and healthy choices for your pet. The biggest decision you have to make is what you choose to feed your dog.
There are plenty of options out there and, unfortunately, it can be tough to pick one. If you do a little research, however, you'll find that many of the options are good and there are options for every budget.
That being said, every dog food brand has its pros and cons.
Here are some of the things you need to know about Wild Earth:
Pros for Wild Earth:
Made with 100% clean protein from yeast, not meat
Yeast protein contains all 10 essential amino acids
Complete and balanced according to AAFCO nutrient profiles
Formula developed by scientists and veterinary nutritionists
Safe for dogs with meat and dairy-based allergies/sensitivities
Cons for Wild Earth:
Fairly expensive compared to the typical dry food
Not a grain-free recipe (some dogs may be sensitive)
Lack of animal ingredients may be less appealing to some dogs
Every brand has its pros and cons, so it's up to you as a dog owner to make the choice in the end. What you've learned here should be enough for you to decide if Wild Earth is the perfect pick for your pup.
The Final Word
We really weren't sure what to think about Wild Earth when we first started reading about the product. We're familiar with vegan diets for dogs but yeast as a main ingredient is new for us.
After reading the scientific support and explanation, we don't have any major concerns, but we're still a little skeptical.
In testing the product, we were surprised to find that our test dog seemed to like the food but even more surprised that our cats did too. He's usually most interested in food that has a strong meat aroma, but there was something about this food that was appealing to both Archie and our cats.
To sum things up, we don't have any major complaints or concerns about Wild Earth, but we really don't know enough about the science behind it to give it our full recommendation. The science behind meat-free diets for dogs is complex, and we're not sure whether yeast is really an acceptable alternative.
If you have your heart set on a vegan diet for your dog (and your vet's approval, of course), however, Wild Earth could be one to consider.
Frequently Asked Questions
Has Wild Earth ever been recalled?
No, Wild Earth dog food has never been recalled.
Is Wild Earth food grain-free?
No, Wild Earth's only dog food recipe contains oats as a primary ingredient. It does not, however, contain corn, wheat, or soy ingredients.
Is Wild Earth food organic?
No, Wild Earth's ingredients are not organic. It should also be noted that Wild Earth uses GMO ingredients.
Is Wild Earth food raw?
No, Wild Earth is a dry dog food.
How many calories per cup for Wild Earth food?
Wild Earth dog food contains 333 kcal/cup.
Can I cancel my Wild Earth food subscription?
Yes, you can log into your account online to cancel or change your subscription at any time. You can also make a one-time purchase.
Where can I buy Wild Earth food?
You can purchase Wild Earth dog food online through the company's website, either as a single purchase or a subscription.
Can you heat up Wild Earth food?
There's no need. If your dog prefers warm food, however, you can moisten it with a little warm water or broth.