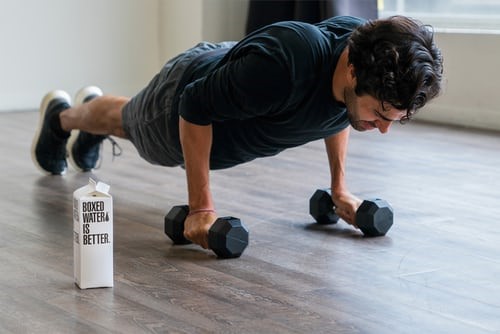 In a world of instant gratification, growing connectivity at the cost of connection, rising obesity rates, depression, anxiety, exercise, and a healthy lifestyle are a cure-all. Exercise and the gym can be a safe space for most people and stand in as an outlet for their frustrations and worries. Sticking to a rigorous gym routine can help people set goals and focus on improving themselves while keeping healthy and fit. Working out is a solution to our hectic and stressful day-to-day routines; it helps us break the monotony and makes us feel better about ourselves, regulate our mood, and keep our mental health in check.
Workouts can start from the basics like walking, running, or dancing to Zumba, yoga, and weightlifting at home to hitting the gym for a full-on workout. Whatever your motivations for deciding to workout, it's unreasonable to believe that you will see changes right from the get-go. You have to be patient, take everything a step at a time and maintain a steady and regular schedule to achieve your goals. A key is to not single-mindedly focus on results but maintaining a routine and consistency. However, instant takeaways from a workout are an uplifted mood, a feeling of accomplishment, productivity and most importantly taking a step towards becoming the best and healthiest version of yourself. There is never a better time to start working out than right now.
Introduction
For motivated individuals, their exercising experience must be the best to ensure that they can maximize their takeaways to maintain tip-top performance and an active lifestyle. A true athlete lives and breathes exercise, it has to be a truly motivating and encouraging experience. Squat Wolf aims to truly maximize your exercise experience by providing you with the best possible breathable and quality athletic wear for athletes and fashion enthusiasts aiming to present their style and personalize their exercising experience.
The genesis of the Squat Wolf brand came from Dubai, an idea aiming to give to provide gear to fitness enthusiasts who want to work a good sweat and look their best at the same time! It's difficult to find apparel that can augment a workout and still represent an athlete's style. Squat Wolf aims to solve this problem by providing gym-goers with the finest quality athletic wear that still compliments an athlete's figure and physique. Squat Wolf prides itself on never compromising on "Style", "Performance", or "Fit", giving you the best all-around experience.
Website
The Squat Wolf website is user-friendly and fully functional in regards to both its build and outlook. Navigation and browsing are super easy and convenient even for the less tech-savvy individuals. The search bar is highly responsive, making it a piece of cake to find your desired and favorite products while suggesting the most searched and popular products. The description for the items on sale is top-notch. Beneath each of the products are three tabs for the product's description, a brief description of each of the components, and a video description for the icing on the cake. Other noteworthy features include the filters for price, newest, oldest, and popularity that lets you view products in your budget, new arrivals, and quality reviews. The starting webpage is wonderfully presented with info about the brand, the collections available, news of currently running sales, and quick links to info about the brand, their Instagram Store, and Customer Service. You can add the products on display to your cart with a simple left-click. You can also make an account at Squat Wolf, with the simple process of inputting your basic info and running a quick email verification. Squat Wolf ships both domestically in the UAE and internationally. For buyers worrying about the hassle of changing their currency to make a purchase, the website accepts payments in 15 different currencies for international buyers including the USD. You can also contact Customer Care if you need help since Wolf Squat has a team specially assigned to help customers having problems with delivery or products. In case of urgency, they have a live chat available on the right side of their website. They have more resources and information on the production of the items. Squat Wolf is not just a brand but a lifestyle that wants to provide you with the best service.
Products
T-Shirts
Squat Wolf designs tee-shirts to provide both men and women with a leisurely, comfortable, and enjoyable exercise experience for the ultimate fit. They are designed with moisture-absorbing fabric to keep your performance at its peak throughout the day. The tee-shirts are available in an array of prints and colors for both men and women.
Sports Bras
Squat-Wolf's collection of Sports Bras made and engineered for intense physical activity, sports, and workouts, combine comfort and functionality, perfected with contemporary styles. Find the right sports bra for you with its range of bras from high to low impact.
Gym Stringers and Tanks
Squat Wolf's collection of men's Stringers and Tanks are designed for the most intense bodybuilding workouts. Their designs compliment your physique and keep you on course with your dedication to the gym and self-improvement.

Hoodies and Jackets
Squat Wolf's gym hoodies are carefully designed to help you excel during intense workouts by regulating your body temperature. Their hoodies mash together performance and style, making them an essential part of every athlete's gym gear.
Jogger Pants
Squat Wolf's Jogger Pants will amplify your energy throughout your workouts. They are made with a comfortable stretchable fabric, which augments your mobility in your exercises and gets you moving freely. They give optimal results for workouts or just pushing through your tiring weekday activities. They are available for both men and women.
Shorts
Squat Wolf has a vast collection of gym shorts for both men and women. Their shorts can endure high-intensity workouts and are catered for absolute comfort and range of motion. They are designed with multipurpose activities, like running, squatting, jumping, or playing sports. They will be a perfect addition to your gym gear and aid you at the peak of your performance by allowing you to easily go through various motions to reach your stretching limits.
Leggings/Tights
Squat Wolf's gym tights are a household name because of their impact on athletic performance. Their leggings and tights are expertly designed for high-intensity workouts with sweat-wicking material that gives a soft and comfortable feel. They are made of heat-concealing fabric and have moisture-resistant side zipper pockets to keep your belongings safe during a gym session.
Accessories
Squat Wolf has a wide array of accessories available at their online store including gym bags, workout socks, headwear, face masks, bands, skipping ropes, and yoga mats. They have the best options with solid and trendy colors and designs. If you have a workout enthused you can give them the perfect presents by getting them Squat Wolf e-gift cards. They're easy to use, environmentally friendly, and always accessible.
Customer Service
Squat Wolf has some of the best customer services in the business. All you have to do is report your concerns with a quick email, and they'll reach out to you at the earliest. You can also contact them via the live chat available on the right side of their website. You can also reach their customer service to track your order till it reaches your doorstep. They also have charts and infographics for men's and women's sizes to help you find the perfect fit for your unique body type. You can also read about their shopping and delivery policies as well as their delivery and return policies. They also have an FAQs section to answer any queries you might have regarding issues that other customers might be facing.
Customer Reviews
For more insight on Squat Wolf's products and services, you can read reviews by many of their satisfied customers. It's always more comforting to hear something from the average consumer. They also have special discounts for students. They also have a student ambassador program where interested students can even earn a commission, get free gear, and even a lifetime discount. You can also get a 100 dollar discount upon opening an account, with free shipping available.
Conclusion
If you are a serious athlete looking to up your game while still presenting your personality, Squat Wolf is the one-stop spot for you. The quality fabrics and design boost your performance and cater to your sense of style. A combo like this is hard to achieve. Squat Wolf is a fast-growing sports brand that deserves your attention. The best apparel and accessories for all your workout needs at the best quality and prices to complement your fit and active lifestyle, and make your fitness journey unique.