Your resume is an important part of the job search. It could very well be the thing that sets you apart from your competition.
This also means that a subpar resume can set your job search back months.
Today we will be reviewing ResumeWritingGroup.com and their resume writing services.
We have taken a deep dive into the customer reviews, cost, resume samples, and writer credentials at Resume Writing Group. Our overall rating for ResumeWritingGroup.com is 70/100.
Resume Writing Group
Score
Our goal is to help you find the best resume service that will advance your career. Take a look at some other top-rated resume writing services and find the perfect fit for you!
Best
RESUME WRITING GROUP

Alternatives




About Resume Writing Group
Based in Clermont, Florida, ResumeWritingGroup.com has been offering resume writing services since 2003.
The company is well-versed in writing resumes for all career levels and situations. They write entry-level resumes, career change resumes, return-to-work resumes, professional resumes, senior executive resumes, and federal resumes.
In addition to the above, Resume Writing Group offers KSA responses, cover letters, post-interview thank you letters, LinkedIn profiles, and career coaching services to make the whole job search process easier.
ResumeWritingGroup is a member of the Professional Association of Resume Writers & Career Coaches (PARWCC), as well as the National Resume Writers Association.
The company has 19+ years of work experience, in which time it has served more than 125,000 clients. Some of these clients have secured jobs at companies including Google, Microsoft, Apple, Bank Of America, Sotheby, and many more.
Let's dive right into some of the pros and cons when it comes to working with Resume Writing Group.
Resume Writing Group Pros vs. Cons
As with any company, there are pros and cons. It's up to you to determine what is a "must-have" and what things you can live without.
PROS
100+ stellar online reviews from previous customers.

Affordable resume service starting as low as $99.

Turnaround time of 1-2 business days is quicker than most.

125,000+ resumes written since inception.
CONS
No industry-recognized resume writing certifications.

Resume writing process does not include a phone consultation.

Website does not provide any information about the founder.

8,500+ resumes written yearly, yet reviews are below 1,000.
If you are looking for a resume writing service, Resume Writing Group is a great option, but it is worth exploring other alternatives to find the best fit for your needs.
One such alternative is Find My Profession, who has also great online reviews from 900+ previous clients and a quick turnaround time.

However, Find My Profession differs from Resume Writing Group in that they have a team of certified resume writers. Phone consultations and a 60-day interview guarantee are standard with every resume.
Resume Writing Group Customer Reviews

Our Certified Professional Resume Writers have rated ResumeWritingGroup.com a 70/100. Additionally, Resume Writing Group has received customer reviews of 4.5/5 on Google, 4.2/5 on Trustpilot, 4/5 on Sitejabber, 3.6/5 on Feefo, and 6/10 on Resumehelpservice. These are great reviews, especially when you consider that the company is over 19 years old.
Google shows 217 reviews with an average rating of 4.5/5. While the overall rating isn't bad, reviews within the last year have been mostly negative. Clients complained of poor customer support, communication, and resume quality.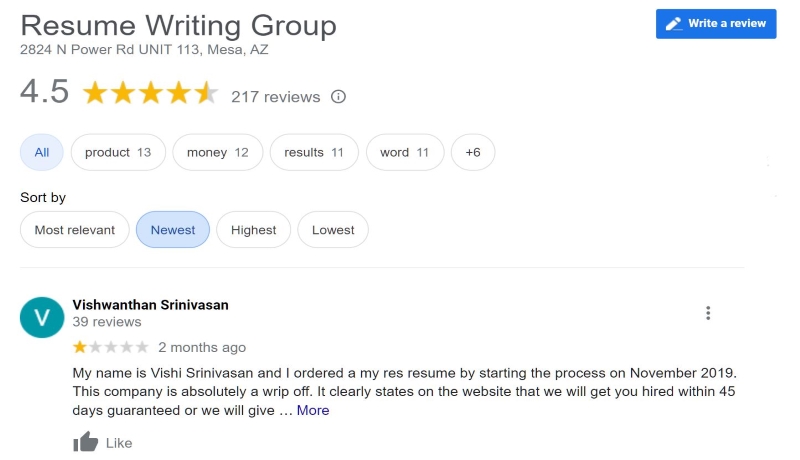 Trustpilot shows 71 reviews with an average rating of 4.2/5. Approximately 11% of these reviews are "poor" and "bad", with a whopping 83% being 5-star reviews. Moreover, we loved how the company consistently replied to negative reviews.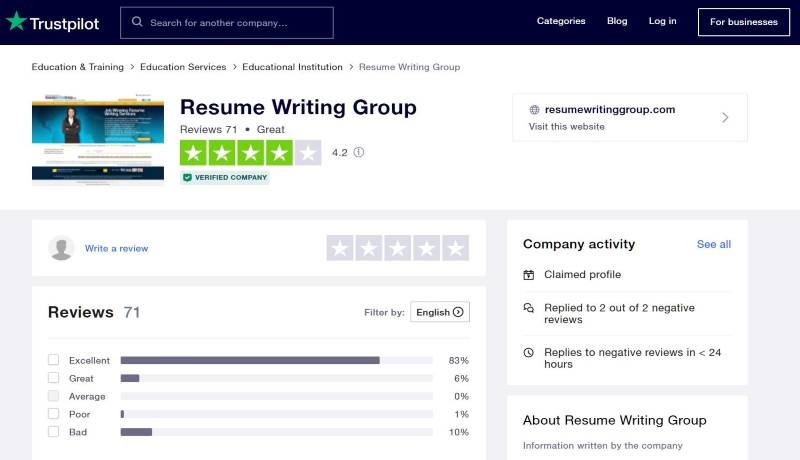 Sitejabber shows 20 reviews with an average rating of 4/5. Only 5 of the reviews were negative, with 15 being 5-star reviews. Safe to say that the reviewers were majorly satisfied with the service.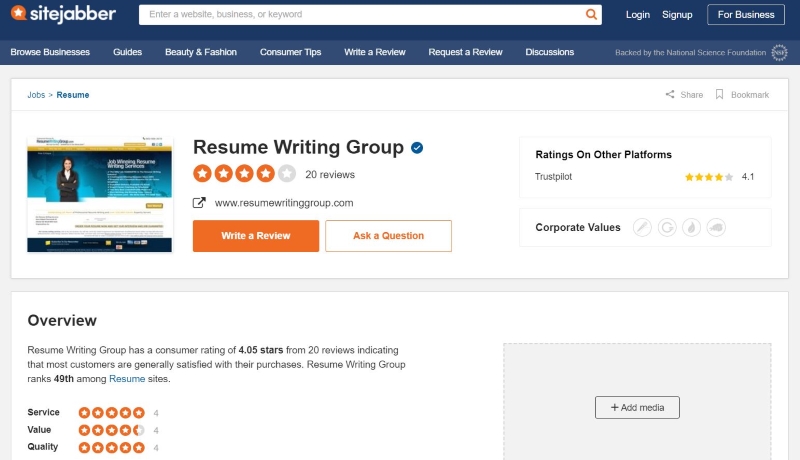 Feefo shows 7 reviews with an average rating of 3.6/5. Despite the low overall rating, a lot of the customers attested to how quickly the company delivered their resumes.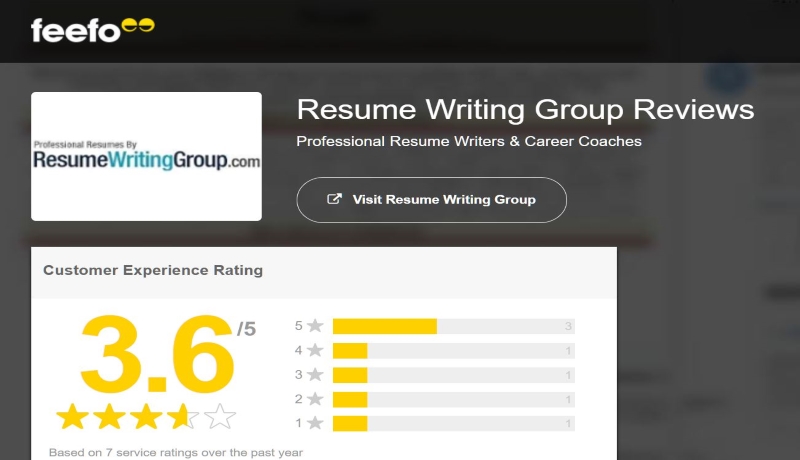 Resumehelpservice shows an average rating of 6/10. It's not the worst we've seen, but it's average at best. What's more disappointing is that the quality of their resume received the lowest mark, with a score of 5.1/10.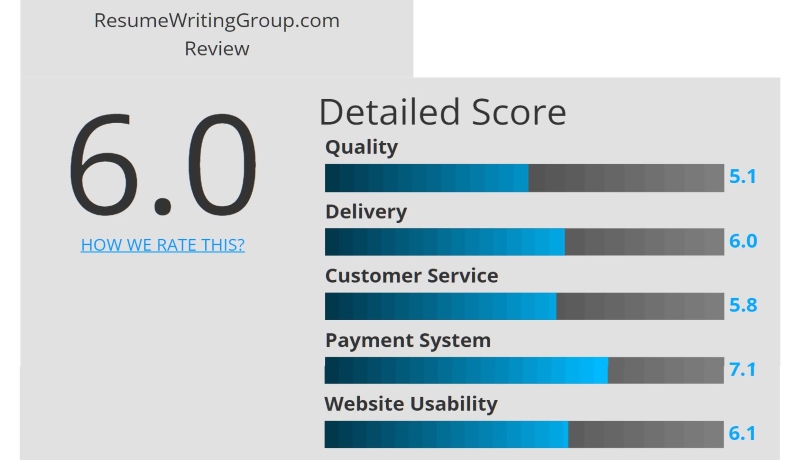 As with anything, it's important to take each review with a grain of salt. Additional research should be done beyond reading the reviews that are found online.
How Much Does Resume Writing Group Cost?

Resume Writing Group's resume packages cost $99 – $199. These are some of the most affordable resume packages for all levels of professionals. In fact, there aren't that many services that charge less.
RESUME WRITING GROUP
COST
$189
There are four packages to choose from – Student & Entry Level Resumes ($99), All Other Professional Resumes ($149), Senior & High Level Executive Resumes ($199), and Federal & Government Resumes ($189).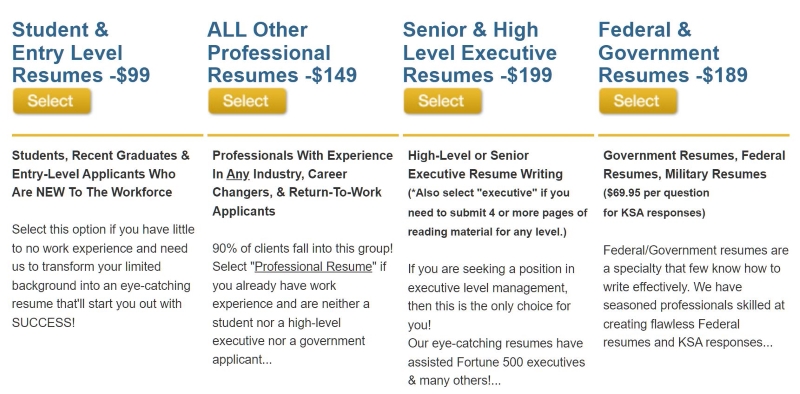 The Student & Entry Level Resumes package is for students, recent graduates, and entry-level applicants who are new to the workforce and have little to no experience ($99).
The All Other Professional Resumes package is for professionals who already have work experience and are neither students, high-level executives, nor federal/government applicants. It is also for people who are returning to the workforce, as well as professionals looking to change careers ($149).
The Senior & High Level Executive Resumes package is for individuals looking to secure executive-level management positions ($199).
The Federal & Government Resumes package is for federal/government applicants, as well as military-to-civilian transitioners ($189).
For a federal resume, you will have to pay an additional $69.95 per question for KSA (Knowledge, Skills, and Abilities) responses.
While ordering, you'll also be able to select add-on services including cover letters, career coaching, LinkedIn profile writing, and others.
For the most accurate and up-to-date details on package pricing at ResumeWritingGroup.com, we recommend that you visit their website directly.
Resume Writing Group Resume Sample
We wanted to see what the resume quality of ResumeWritingGroup.com looked like so we took a look at some of the resume samples featured on their website.
We've attached a Resume Writing Group resume sample for you to review (first page only). Below, we share some of the things that we liked, and what we disliked about this resume.
THE GOOD
Includes an impact statement above the summary.

Starts with a strong summary with engaging content.

Shows career progression throughout all company changes.

Highlights executive-level experience with key strengths.
THE BAD
Too much color makes it difficult to read and follow the content.

Uses a functional format, which does not work in today's job market.

Lacks measurable accomplishments and specific details.

Missing appropriate keywords for target position.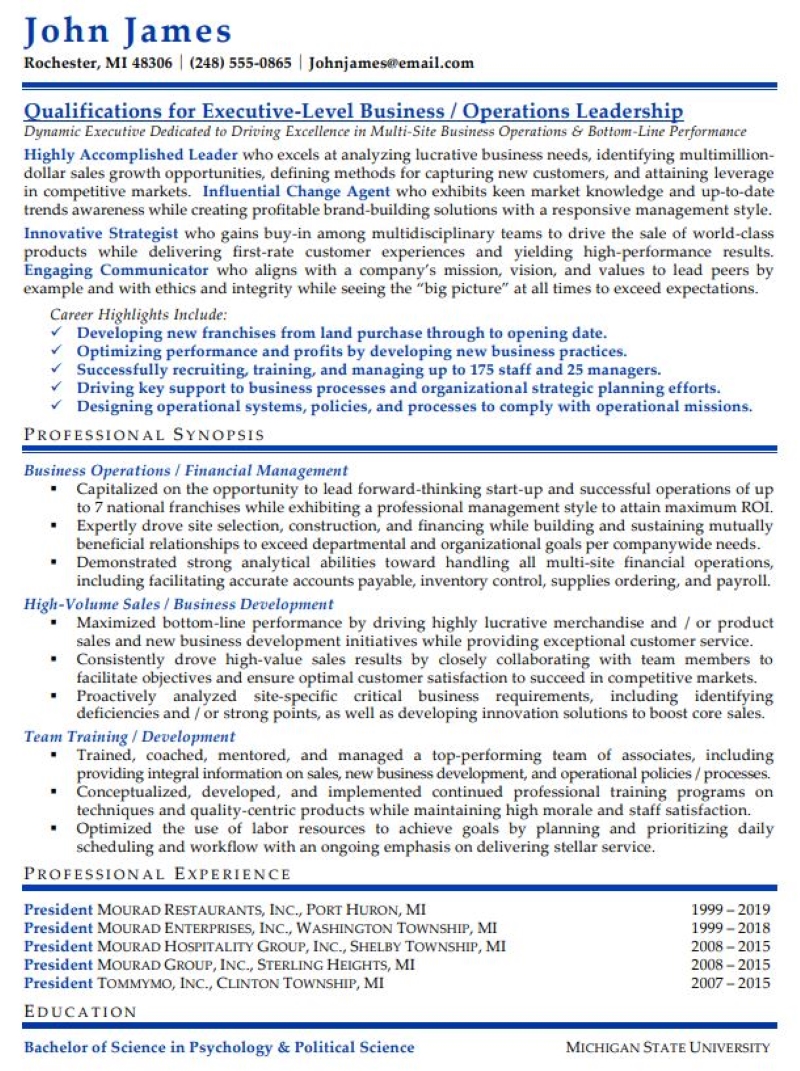 Resume Writing Group Writer Credentials
ResumeWritingGroup.com hires only seasoned full-time professionals in the United States or Canada.
Although the exact number of writers working for the company has not been mentioned on the website, there are bios available of 12 writers on the team.
Many of the writers come from a wide variety of backgrounds, from admin support and recruiting to healthcare.
And although none of the writer bios mention having any resume writing certifications, it seems like most of the writers are expert resume writers.
That being said, we're not huge fans of companies whose writers have no industry-recognized resume writing certifications. That's why we decided to dig deeper and see if we could find any certifications.
So, we checked out the company's LinkedIn profile and found 6 employees. However, only one claimed to be a Certified Professional Resume Writer.
That would've been great if it were true. As it was, the employee's profile seemed to be fake, as it was scanty and didn't even have a profile picture.
The website mentions that they write resumes for more than 8,500 people per year. By calculations, this would mean they write 20+ resumes daily.
We're just not sure how possible that is, so it's either they've grossly exaggerated the numbers or they have a whole lot more resume writers than they say they do.
Resume Writing Group Resume Writing Process
ResumeWritingGroup.com follows a straightforward and simple operating procedure for getting your resume written.
Let's look at the steps taken in the ResumeWritingGroup.com resume writing process below:
While buying your resume package, you will have to submit your resume or complete a career information questionnaire.
After payment, you will receive an order ID via email.
The assigned resume writer will reach out to you to start the writing process.
You can communicate with your writer via phone, email, or the client-service interface.
Your resume will be delivered within 2-3 business days for entry-level and professional packages, and 4-5 business days for executive and federal resumes.
The writer will keep working on revisions until you are satisfied.
You can order their rush service to get your resume within 1-2 business days for entry-level and professional packages, and 3 business days for executive, federal, and military resumes.
Is Resume Writing Group Worth It?
Whether or not Resume Writing Group is worth it is entirely up to you.
Our goal is to provide you with the most transparent and helpful information possible. But, only you know what is best for you and your career.
Here is a summary of our findings on ResumeWritingGroup.com written and reviewed by a Certified Professional Resume Writer:
Customer Reviews: 20/25
Cost to Value: 20/25
Sample Quality: 15/25
Writer Credentials: 15/25
Total Score: 70/100
As a reminder, we highly recommend reviewing 2-3 services before making a final decision.
If you're in need of a top-notch resume writing service, we suggest checking out Find My Profession. With a team of experienced reverse recruiters and a commitment to customer satisfaction, Find My Profession can help you find your dream job. And with a perfect score of 100/100, you can trust that you'll be in good hands!