While this Inc Authority review might sound a little bit like the Incfile review we recently did, make no mistake about them. These are two distinctively different business formation and registered agent service providers.
Case in point- one particularly outstanding Inc Authority feature you won't find on Incfile is its free business formation package. Yes, that's right- it turns out you can apply for an LLC business (limited liability company) through Inc Authority for free. The only payment here is, of course, your state filing fees.
Hence, it's understandable that Inc Authority continues to attract a wide range of new businesses across all the 50 U.S. states. Startups predominantly operate with very limited budgets, and they tend to go for such options.
Fair enough. But, let's not get ahead of ourselves here. While it's undeniable that Inc Authority deserves all that attention for its very generous offering, you should always expect free services to come with a catch.
So, what's the deal here? How reliable are Inc Authority's services?
To answer that, here's the ultimate Inc Authority review that lays bare all the facts.
After trying out various packages offered by the company, our unbiased review covers Inc Authority's business formation services (including LLC formation services), business management solutions, registered agent services, customer support capabilities, as well as the overall package and add-on pricing schedules.


Inc Authority Review – Overview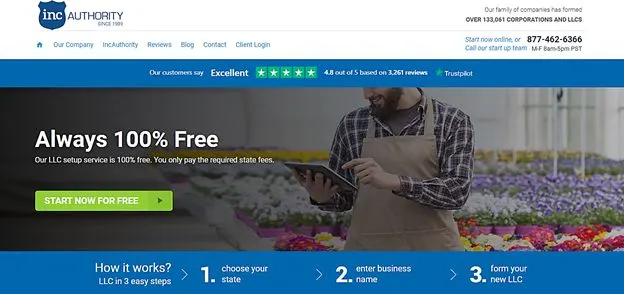 Inc Authority's journey started in 1989. This makes it one of the oldest and most experienced LLC formation and registered agent service providers.
As a matter of fact, Inc Authority has so far served more than 130,000 companies across the country and counting, most of which happen to be small to medium-sized businesses.
But, it doesn't end there. Turns out Inc Authority is also an option among large businesses and enterprises.
Well, you could say its success has a lot to do with the free package. However, that's not the only trick Inc Authority has up its sleeves. Businesses also reportedly like for its additional business-support services.
In essence, Inc Authority is an authority not only in LLC formation, but also when it comes to registered agent services, digital storage and distribution of compliance documents, business funding analysis, tax planning consultation, EIN application, business credit assessment, and trademark application.
In other words, therefore, you can think of Inc Authority as a one-stop-shop for all the basic legal services you might need to form an LLC business.
Then get this. The bulk of its clients who care to post on user review platforms rate it 4 or 5 stars. So, it does indeed seem like a legitimately reliable service.
That notwithstanding, however, we still had to conduct numerous tests to confirm for ourselves. And here's what we ultimately found out…
Inc Authority Review – Main Features
Ease of Use
Overall, I find Inc Authority to be incredibly easy to use. All the services here are facilitated by a web-based system, whose dashboard grants you direct access to its business formation tools, plus the subsequent business management and compliance add-ons.
Other than that, Inc Authority's system stores and delivers digital copies of your LLC formation and compliance documents. Consequently, you should be able to conveniently retrieve all your files from anywhere as long as you have a stable internet connection.
And speaking of which, you can expect an easy time navigating the entire system on both mobile and PC. Inc Authority comes with a pleasantly straightforward interface and menu options, most of which can be understood by beginners right off the bat.Now, to get started here, you're only required to follow a three-stage application process, which should take you less than 10 minutes.
The first stage entails specifying your business formation state as well as the corresponding business entity you'd like to form. Although most users typically choose LLC formation, Inc Authority happens to also provide corporation formation packages.
Once you're done, the next stage is all about your contact information and the business details. So, you'll go ahead and type all the fine specifications before proceeding to the final stage.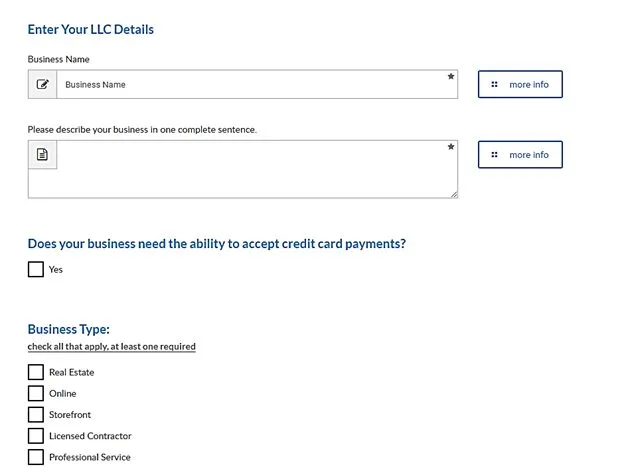 And Speaking of which, the third stage of the registration procedure is where the actual business formation process starts. Inc Authority requires you to submit all your company data, after which its agents will handle your filing services.
Free Business Formation Package
Now, the best thing about all this is, Inc Authority's business formation setup service is entirely free of charge. The company won't charge you anything for business name verification, the preparation and filing of your formation documents, a year's worth of registered agent services, plus checking and merchant services.
That's a fairly generous package I must admit. And surprisingly, Inc Authority further tops it off with business funding analysis, plus tax planning consultation (how to minimize tax return penalties, etc…).
Eventually, the only thing you'll be charged for is your state's formation filing fee (not a service fee), which should range between $40 and $500 (fees vary on additional services need e.g. LLC operating agreement add-on, etc…).
It's worth noting, however, that Inc Authority doesn't restrict your options. If you want a little bit more than what comes with the free package, the platform allows you to purchase supplementary services as add-ons.
Premium Service Packages
Otherwise, you could alternatively proceed with one of its three premium service bundles. They offer additional business formation resources plus tools for sparking business growth, but at comparatively costly rates.
The cheapest business entity package starts at $399, while the other two cost $499 and $799 respectively- exclusive of the accompanying state filing fees (state fee).
Well, on the brighter side, at least everything here is transparent. You won't find any hidden charges on any of Inc Authority's packages, including the free startup bundle.
Forming a Business
As we've established already, business formation is the core service offered by Inc Authority. That's why, when you come to think of it, the company uses this specific brand name for business entity formation.
Now, when it comes to the actual business formation process, Inc Authority is a fairly dynamic service provider. It specializes in not only LLC formation, but also the filing of corporations. So, the business type choice is yours based on your organization's structure.
But, whichever you choose, you'll have Inc Authority handling the subsequent paperwork on your behalf.

Business Name Verification Check
Its agents will first conduct a thorough 5-point business name search to confirm the availability of your selected company name. That means you can only proceed after they confirm that no registered business bears the same name as yours.
In the meantime, you should be able to track everything from your account's dashboard. It'll even provide digital copies of all your company registration documents, plus the corresponding supporting files.
You might, for instance, want to capitalize on Inc Authority's templates to record the minutes as you hold your initial company meetings. You'll need such records to fulfill your state's compliance requirements.
But, make no mistake about it. You won't get this privilege on the free package. The farthest the free bundle goes is business name verification, the preparation and filing of entity formation documents, registered agent services, tax consultation, and business funding analysis.
Combined, these provisions should help you get your business formation process off the ground.
But then again, here's the kicker. Inc Authority will leave you to handle most of the legal procedures that accompany business formation.
Well, come to think of it, I guess that shouldn't be difficult for someone with business registration experience.
Sadly, however, that's not the case for beginners, as the compliance matters could get pretty confusing while you try to get the business up and running.
Now, to save yourself the trouble, I'd advise you to purchase supplementary services (note: not my formal legal advice, I am not a lawyer, please consult your attorney, etc…).
Operating Agreement
A good example is the Operating Agreement add-on for $89, which is currently a compliance requirement in some of the states.
In that case, Inc Authority will grant you a customized Operating Agreement based on your specific business structure. It'll then outline not only your company's framework but also the corresponding profit shares that each stakeholder is entitled to.
Most importantly, however, the Operating Agreement comes in handy when you're required to prove ownership of the business.
EIN Application
Another service you wouldn't want to miss out on is EIN application. And for the sake of clarity, EIN here refers to the Employer Identification Number, which is a unique tax ID number for filing business taxes.
But, get this. You can't hold off until the next tax filing period to acquire the number. It turns out that in the meantime, you'll need the EIN Number to open a business bank account, as well as recruit employees.
So, whichever way you look at it, this is one thing you can't avoid in any state.
Now, to apply for the number, you could choose to deal directly with the IRS. But the problem is, such direct applications can be very cumbersome at times.
Hence, you should consider leaving the heavy lifting to the experts at Inc Authority. They'll file and follow up on everything for a one-off fee of only $49.
Now, with a registered business plus its corresponding EIN number and a bank account, there's one more thing you might be required to comply with before you launch your operations.
Business License
Yes, that's right, you might need a business license. It all depends on your state's compliance legislation, as well as the type of business activities you plan to engage in.
Thankfully, this is yet another extra service you'll find on the Inc Authority platform. And once you pay a one-off charge of $99, you'll have the peace of mind as Inc Authority's agents conduct state research, before finally applying for the required licenses, permits, and tax registrations on your behalf.
Then when everything's done, you'll probably have yourself a fairly large volume of registration and compliance documents. So, of course, it's understandable if the process of tracking your documents starts getting cumbersome.
Well, if you're the type of person that likes order, you might want to make things much easier for yourself by organizing the documents.
Record Book
Now, this is precisely where Inc Authority's Record Book comes in.
It provides a custom company seal, various content tabs for all your documents, plus a personalized case engraved with your company's name.
Inc Authority's agents will further organize all your documents on the record book, consequently giving you the peace of mind to focus on your business matters.
That said, I know what you might be wondering at this point. How long does the whole process of business formation – from registration to licensing- take?
Well, the truth is, there's no standard time here. The overall time it takes to get your business up and running depends on numerous variables, all of which tend to vary from one client to another.
It's worth noting, however, that the average turnaround time for business registration is only a couple of days. The waiting time is based on your state's registration procedure, which shouldn't take longer than 2 weeks.
Don't sweat it though. Inc Authority's agents can let you in on the expected turnaround time before you lodge the application.
Express Process
And if you happen to be in a hurry, Inc Authority still has another trick up its sleeves. It offers an Express Processing add-on for $49, which should expedite your business registration process. Its agents will quickly take care of your filing, and then forward everything to your state's Secretary of State Department on the very same day you place the order.
Managing a Business
The sad bit about forming a business is, the compliance obligations don't end there. A running business has its fair share of compliance requirements too.
But, here's the problem. You'll probably be too busy managing the business to keep up with every single legal requirement.
Thankfully, Inc Authority provides just the right answer. It extends its solutions beyond business formation to give business owners the option of having their compliance issues handled by real experts.
Not entirely though, as Inc Authority doesn't offer some of the advanced services we've sampled through a number of its closest competitors.
That's not to say you won't be comfortable here. As a matter of fact, Inc Authority boasts of a couple of its own unique services that seek to help you manage and grow your business.
Business Funding Analysis
If you're looking for funds that can support your operations, for instance, you'll appreciate Inc Authority's business funding analysis services.
And just like the name suggests, this entails having your company's funding needs assessed by a financing expert, who'll then recommend various business funding options.
And speaking of which, Inc Authority happens to enjoy close links with numerous financing providers. This allows it to pre-qualify you accordingly for the specific loan amount you need.
What's more, the whole process doesn't take long. Inc Authority will pre-qualify you in minutes and if everything ultimately checks out, you can expect to receive your funds in a matter of days.
Business Credit Coaching
But if you're worried about your company's credit performance, perhaps Inc Authority's Business Credit coaching services could help you turn things around.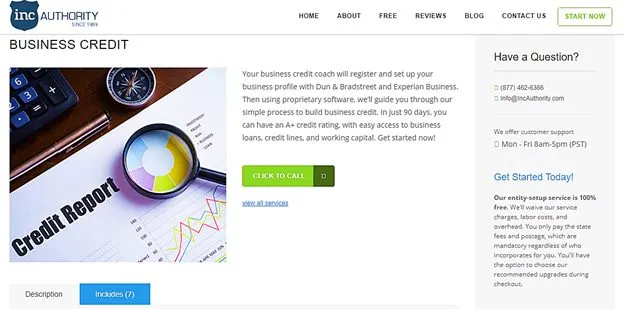 You'll be dealing directly with an expert business credit coach, who'll proceed to create and integrate your company profile with Dun & Bradstreet and Experian Business. They'll then help you discover the tricks to building business credit, with the help of intuitive software.
In the end, it'll typically take you about 3 months to achieve an A+ credit rating, which will then increase your work capital, credit lines, and business loan options.
Business Plan Advisor
Another type of professional expert you can take advantage of here is a business plan advisor. They come in handy when you need to create a solid business plan for managing your operations, or perhaps convincing a financial institution to fund your company.
If you choose to proceed, Inc Authority will assign your case to a dedicated business plan advisor. They'll subsequently analyze all your business elements, the accompanying projects, as well as other relevant parameters.
Then using the findings, they'll conduct extensive research, before ultimately preparing a comprehensive business plan on your behalf.
And you know what? If you're not satisfied with the final draft, Inc Authority allows you to request edits at no extra cost.
Tax Planning Consultation
Then when it comes to tax compliance, Inc Authority is generous to offer business owners free Tax Planning Consultation Services.
Ok, I admit I was particularly drawn to this, as business tax is a fairly broad subject that encompasses complex federal and state compliance issues.
Nonetheless, it took an Inc Authority tax expert only a couple of minutes to review my registered business and the corresponding state tax requirements, after which he was able to advise me in a clear, concise manner.
Registered Agent Services
Now, tax and credit issues aside, another solution you can expect from the default Inc Authority platform is registered agent services.
And the best thing about it is, it's completely free of charge. While most of the other leading registered agent service providers charge tens of dollars for such privileges, Inc Authority generously offers it for zero dollars.
Not permanently though. Registered agent services are only free for the first 12 months. Beyond that, you'll be required to pay in full every year.
That said, the registered agent services here operate just like any other regular registered agent services we've reviewed in the past. Inc Authority will give you a unique business address for exchanging correspondence with state and federal compliance bodies.
Consequently, every single compliance document the company receives on your behalf is scanned, and the resultant digital copy is uploaded to your system. That means you get to view everything and respond accordingly in due time.
Protection Advisors
Now, in case any legal issues arise while you're at it, you could turn to what the company calls "Protection Advisors".
This service costs $27 a month and it comes with unlimited phone support, which connects you with business management and compliance experts.
They'll guide you on a wide range of issues, ranging from payroll and business funding to lawsuit defense, state and local business licenses, tax and accounting, as well as IRS notifications and audits.
Inc Authority Review – Customer Support
Going by the range of expert services we've sampled here so far, it's evident that Inc Authority isn't willing to take any chances when it comes to customer support.
Take, for instance, the expert services. In addition to the protection advisors, you get to capitalize on tax consultants, business credit coaches, business analysts, etc.
All these are great supplements to Inc Authority's core customer support system, which comes in the form of phone, email, and live chat channels.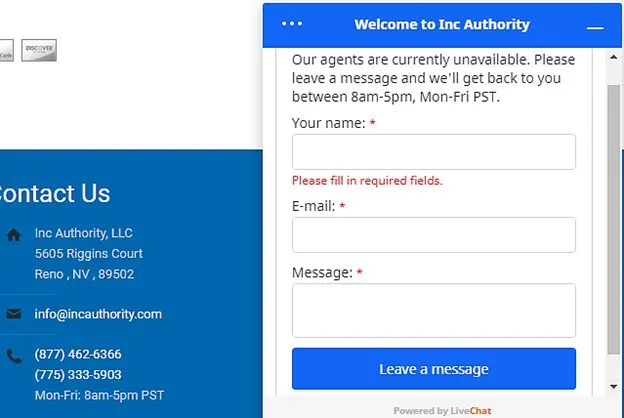 Well, you can bet I raised a couple of tickets on various business compliance inquiries to test Inc Authority's overall responsiveness.
And much to my amusement, the customer support team, on average, took less than two hours to respond to my emails. A fairly admirable performance I must say. Plus, I noticed all the agents who got back to me were adequately knowledgeable.
The only issue is, the support team here isn't always available. According to Inc Authority, you can only get in touch with its support agents during business hours- Monday to Friday between 8 AM and 5 PM PST.
Well, although these hours tend to work fine for most clients, Inc Authority should still consider introducing additional support options for weekend callers. Otherwise, the weekdays are sufficiently covered if you ask me.
Another important point to note here is that Inc Authority doesn't limit its customer support capabilities at all. Every single user, including businesses on the free package, get unlimited assistance across all the channels- phone, email, and live chat.
That said, the only important thing you'll find missing on Inc Authority's website is a knowledgebase.
Ok, I know what you might suggest here. And no. In all fairness, a blog is not a customer support knowledgebase. It can arguably fit as some form of a resource center alright, but it's nothing close to what you'd expect from a decent knowledge base.
And let's face it. Now that business compliance is an extensively broad field involving a lot of complicated legal stuff, Inc Authority should come up with a well-organized and insightful knowledge base for its users.

Inc Authority Business Formation Service – Pros and Cons

Pros of Inc Authority
Inc Authority comes with free adequately-provisioned business formation services. After paying only the state fees, you'll get services such as business name search, formation preparation, and filing, a year's worth of registered agent services, business funding analysis, plus tax consultation.
Email, phone, and live chat customer support channels are available to all users, including the businesses on the free package.
The free package allows you to leverage Inc Authority's registered agent services for one year at no cost.
Inc Authority has very transparent pricing schedules for its packages and service add-ons.
The process of signing up and registering a business is fairly easy and straightforward.
Inc Authority allows you to form both corporation or LLC entities across all the 50 US states (jurisdiction and LLC service for each).
Inc Authority gives you the chance to consult professional experts in various business-related fields.
It's possible to supplement your package services by simply purchasing add-ons.
The platform here is pleasantly easy-to-use.
The customer support team is adequately responsive and knowledgeable.
Inc Authority offers a range of unique add-on services that'll help you grow your business.
Cons of Inc Authority
Inc Authority doesn't offer advanced compliance services like annual report filing.
Your package's cumulative cost could increase quite sharply when you introduce multiple add-ons.
The premium packages offered by Inc Authority can be quite costly to startups.
Inc Authority's customer support team is only available during business working hours.
Inc Authority is yet to set up a well-detailed knowledgebase or a learning center.
Inc Authority Review Frequently Asked Questions:
Why do I need a Business Record Book?
With a business record book, you can easily organize and locate your business documents. On the other hand, it contains a lot of legal documents you might need to open a bank account and to stock your certificates and leger to certify your ownership (business owner details or partnership details).
Why should I use a Registered Agent?
It is mandatory, by law, to have an address to receive all your legal documents and notifications from the state. With a Registered Agency, you won't have to worry about this, because the agenc=y, becomes your legal address and will receive all your documents with a very high standard of privacy.
Inc Authority Review – Ultimate Verdict
All things considered, Inc Authority seems to be a rather interesting case of a double-edged sword. Certainly one of only a handful in the business formation and registered agent services space.
What do I mean?
Well, for starters, there's no denying that the services here are great. You can easily form an LLC as well as a corporation in all the 50 U.S. states.
And it doesn't end there. Inc Authority further helps you get your business off the ground with its professional expert consultations, as well as business growth tools.
The customer support here is also decent, and you should be comfortable on the platform over the long haul.
Then, of course, there's the benefit of free business formation, which happens to be the principal element that sets Inc Authority apart from other providers. In fact, this package generously combines business formation services with several solid provisions such as tax consultation, business funding analysis, checking and merchant solutions, plus omnichannel customer support.
It's also commendable that Inc Authority allows its free package users to purchase add-ons instead of upgrading their entire package.
But, here's the kicker. The add-ons here are not that cheap, and the situation is much worse when it comes to the corresponding premium packages.
For one-off prices that range between $399 and $1,286, Inc Authority falls squarely in the league of high-priced business formation services.
Now that's where the irony lies. On one hand, Inc Authority is an admirably generous service provider with a well-provisioned free package. Then on the other, it contrastingly offers pricey premium packages.
So, going by these findings, who exactly does the Inc Authority suit?
Well, Inc Authority is an option worth considering if you're planning to start a small business with a limited budget (most small business owners). Or, in other words, you can think of it as business formation and registered agent service for startups on a budget.
The trick, overall, is to combine the free package to form your LLC with a few high-value add-ons. We hope this Inc Authority Review has helped you make your choice!