ILoveGrowingMarijuana (or ILGM for short) is one of our favorite seed banks, and for quite a lot of reasons! ILGM offers superb customer service, a huge selection of seeds to choose from, terrific sales and discounts, and an expansive collection of free online growing resources for brand-new and seasoned growers. But, most importantly, their seed quality is top-notch (and is even backed by a germination guarantee!). Here's our full ILoveGrowingMarijuana review, with everything you need to know before you place your order with this popular seed bank.

A history of helping cannabis growers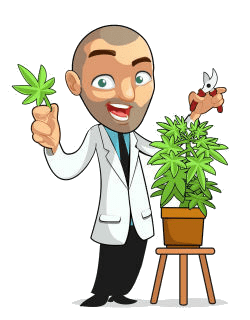 Robert Bergman, the owner and founder of ILoveGrowingMarijuana, started out as a small-scale home-based grower, nurturing a crop of only 5 cannabis plants. Following his passion for growing weed, Bergman spent 25 years obsessively learning everything there is to know about it. He took what he'd learned and in 2012 he founded his blog, ilovegrowingmarijuana.com, as a portal for cannabis growers to come together and share information. ILGM soon garnered a reputation as an expert growing resource, even before they branched out into selling seeds (including their very own breeds).
Part of what's made ILGM so successful is that they don't just sell you the seeds, they make sure that you also have access to as much expert growing knowledge as possible. A copy of ILGM's in-depth growing guide is included with every order, and much more additional information is easy to find on their website. To ensure you always end up with high-quality, useable cannabis for your money, It's recommended to only buy from seed banks that guarantee the quality of their seeds. With a delivery guarantee and germination guarantee, you are covered every step of the way when you order from ILGM. If you still have questions about what makes this seed bank a trustworthy choice, keep on reading! We'll help you get to know this company better with our full review of I Love Growing Marijuana.
ILGM's Online Reputation
From reviews in newspapers around the world to grower's forums, ILGM has a reputation as a legit seed bank with exceptional customer service. While you'll inevitably find online reviews from customers with less than satisfactory experience with ILGM, the consensus is overwhelmingly positive.
ILGM uses Kiyoh, a Netherlands-based online review site, to collect feedback from the community. In the last 12 months, over 4k people have reviewed the seed bank with an average rating of 8.7 and 90% recommending the company. In addition to earning praise from thousands, ILGM is responsive to many reviews showing their dedication to interacting with the cannabis community.
On ILGM's Platform
When browsing the extensive selection of strains on ILGM, you'll find dozens, if not hundreds, of reviews on each product page. While the company controls these reviews, many posts are highly detailed and even accompanied by grow progress pics.
Some negative reviews are mixed into the overwhelmingly positive feedback about seeds not germinating, problems growing, or shipping delays. As far as we can tell, ILGM representatives comment on all the negative reviews on the product pages. The representative responds to the problem and then requests the reviewer to contact customer service so they can make good on the order.
Around the Cannabis Community
Away from the ILGM's direct sphere of influence, the seedbank's reputation holds up. Even in threads that warn people to stay away from ILGM, more comments support the seed bank than offer substantive criticism.
Other forums, such as Seed Finder, ILGM has impressive ratings and countless reviews praising the seed bank. There are a few negative posts on the forum, but they mention that ILGM's customer service was attentive to their issue and replaced the seeds.
ILGM seeds: An impressive selection and guaranteed quality
As evidenced by the glowing ILGM reviews from their customers, seeds from ILoveGrowingMarijuana consistently yield excellent buds. I Love Growing Marijuana is so confident in the top-tier genetics of their seeds that they even offer a germination guarantee. In the unlikely event that you've followed the growing directions and your seeds just aren't sprouting, ILGM will not only replace your seeds, but they'll troubleshoot with you to ensure you get better results on your next try.
Seed Categories
ILGM's seed selection covers an impressive array of strains, and you can easily shop their site based on the type of weed you want to grow. Search categories include indicas, sativas, medicinal weed, ultra-high THC content, and high CBD/low THC ratios. You can also shop based on your growing needs and priorities, such as yield, plant size, climate, and whether you want to grow indoors or outdoors. ILGM seeds include their very own high-quality breeds, such as their famous Bergman's Gold Leaf strain, which is available in feminized and autoflowering seeds.
We find it extremely helpful to offer customers the ability to filter based on their growing conditions. So, if you are just looking for autoflower seeds and want to grow outdoors, you can choose the category in the top menu. Then you'll only be presented with strains suitable for your grow environment.
If you want further optimization, you can search through strains ILGM has picked that will flourish in specific US states. These strains fit the climate of certain regions and have shown popularity among local cultivation experts. For example, if you choose the Colorado location page in the footer, you'll find strains that grow well in high elevations and dry air.
ILGM Feminized Cannabis Seeds
ILGM carries a large variety of feminized cannabis seeds. Their best-selling feminized seeds include Bergman's Gold Leaf, Blue Dream, Girl Scout Cookies Extreme, Gorilla Glue by ILGM, and White Widow. If you prefer the challenge of growing from regular seeds (where male and female seeds may be present) and "weeding out" the male plants yourself, ILGM does also carry a few regular strains, but these are recommended for advanced growers only.
ILGM Autoflower Cannabis Seeds
Autoflowering seeds are especially beginner-friendly and low-maintenance because they can grow year-round in just 10 weeks without light cycle management. The plants yielded from autoflowering seeds tend to be smaller, but they are much easier to grow. If you are new to growing weed, ILGM's staff are always happy to help you choose the right strain for your growing style and capabilities. White Widow, Blueberry, Gold Leaf, Gorilla Glue, Girl Scout Cookies are ILGM's best-selling autoflower strains. ILGM also carries two autoflower mix packs, so you can try out a few strains and find your new favorite.

Nutrients and other products
ILoveGrowingMarijuana also carries all of the fertilizers, nutrient boosters, and plant protectors (these keep bugs, mold, and bacteria at bay) you need to keep your cannabis crop healthy and thriving. You can buy any of these products separately, but they are also included (for a discounted price) in any of ILGM's all-in-one grow kits. ILGM also carries its own organic 5% CBD oil.
The best deals and discounts on ILGM seeds
Mix Packs
ILGM's cannabis seed mix packs offer the most for your money, bringing the price per seed down as low as over 50% off the original price! You can take yet another 10% off of this discounted price if you pay with bitcoin. Each mix pack contains the seeds for three different strains, and there are so many mix packs to choose from!
If you are new to growing cannabis you may want to go with the "Just Starting Out" pack, which includes three easy-to-grow crowd-pleasing strains, or one of ILGM's autoflower mix packs. Other mix pack options include the "Cash Crop" pack, featuring strains known to be high-yielding, an outdoor growing pack, and packs with strains in the same "family", such as Kush, OG, and Widows. Mix packs are also available for weed with a certain flavor profile, such as berry, sweet, or spicy. ILGM also sells fun themed mix packs such as the "Blue" pack, containing the Blue Dream, Blue Cheese, and Blue Haze strains, and the "Bling Bling" pack, which includes the Gold Leaf, Super Silver Haze, and Crystal strains.

Grow Kits
Another great way to save money on ILGM seeds is by purchasing one of their grow kits. These kits include everything you need to get a new crop started and all at discounted prices. Each kit includes 20 seeds, and all of the best fertilizers and protectors to keep your new crop thriving and healthy. The seeds and fertilizers are shipped separately from each other, but as soon as they all arrive, you'll have everything you need to start growing, all in one place. ILGM's grow kit offerings include beginner's, heavy-yield, and medicinal marijuana kits, as well as specific strain kits such as Gold Leaf and White Widow.

Discounts, Sales, and Loyalty Points
One of ILGMs most popular rotating promotions is their "buy 10 get 10 free" sales. A 50% savings on such high-quality seeds is not something to pass up! Plus, you can get the additional 10% discount on top of the sale price if you use bitcoin. ILGM also shows their appreciation for their customers by offering a loyalty (VIP) program where each purchase earns you points that add up to future discounts and even free bonus gifts.
ILGM loyalty points benefits:
Once you join you're already harvesting points.
Get exclusive rewards with every purchase.
Save up for HUGE bonuses.
Get access to exclusive strains.
Earn extra VIP point by following these steps:
Like ILGM's Facebook page
Follow ILGM's Instagram page
Refer a friend – Earn VIP points when your friends buy seeds from ILGM.
Where ILGM (discreetly) ships their seeds
ILoveGrowingMarijuana currently ships to all 50 U.S. states. ILGM has two shipping hubs, one in Amsterdam, the Netherlands, and one in California, USA. Stealth shipping is always provided. This means that neither the packaging your order arrives in nor your bank statement will reveal any hints that you've ordered from a cannabis seed company.
ILoveGrowingMarijuana offers a delivery guarantee, so you can rest easy that you will always receive exactly what you paid for. If your seeds never make it to you, ILGM will resend your order at no additional charge. If your seeds haven't arrived after 25 business days, all you have to do is contact ILGM and let them know, and your order will be resent. Do be sure to bring up any delivery issues as quickly as possible, however, because 90 days after your order is shipped, ILGM will assume you've received it if they don't hear otherwise. Please note that ILGM won't resend an order if the delivery delay is due to mistyped info on the label, but they'll still toss you a discount code for next time.
Yet another great reason to order from ILGM is that they offer free shipping on all United States orders and on all Australian orders over $150 USD. For smaller orders sent to Australia, the shipping charge is $25. The free shipping option does not include tracking numbers, but if that is important to you, you can add that shipping option for a small fee and then easily track your seeds online right from ILGM's website.

Customer service is a top priority
ILGM aims to please with customer service and support as high-quality as their seeds. The I Love Growing Marijuana team of "Support Angels" is super responsive and eager to help you with any inquiries, from advice on which strains to buy to handling any shipping issues. The best way to contact ILGM is through the contact form on their website. Their staff aims to return all messages within 24 hours during the workweek. If you have specific growing questions, you can bring them up in ILGM's very active forum, and one of their expert growers will be happy to help you out. We'll talk more about ILGM's many online resources for growers below, so keep reading!
Germination Guarantee and Returns
ILGM is so confident in the quality of their seeds that they offer a germination guarantee. If you've correctly followed their six recommended growing steps and nothing's sprouting, ILGM will replace your seeds at no additional cost. The six steps are relatively simple:
If you've planted your seeds according to these directions but are seeing no sprouts, you can jump back to step one and try again. If your seeds still fail to germinate, just contact ILGM's support team to discuss the replacement option. If your ILGM seeds do need to be replaced, you may be asked to ship the originals back for further quality assurance testing.
If you run into problems at any point in the growing process, ILGM's troubleshooting team is always on hand to help you figure out why. In the event that your cannabis plants do germinate but don't survive, there are too many potential factors at play for ILGM to resend the seeds, but they will do all they can to help you figure out what went wrong, and they'll still give you a discount off your next order. If your seeds were to arrive damaged (something else which very rarely happens), all you have to do is send a picture of the seeds in their original packaging to ILGM's support team, and they will send you a fresh batch.

How to pay for your ILGM seeds
ILGM seeds tend to run between $12 – $20 USD at full price, and even at full price, they are worth the money. But if you're shopping on a budget, ILGM runs regular sales and they also offer bundled deals that can help you get these great seeds for even less.
Payment Methods
Bitcoin
The best way to pay for your ILGM seeds is with Bitcoin, since you'll get an extra 10% off of your entire order, even sale prices, when you do. Regular bitcoin (not bitcoin-cash) is the only cryptocurrency currently accepted by ILGM.
Electronic Payment/Bank Transfer
ILGM also accepts payment by online bank transfer using your email address, "bill pay," ACH, or wire transfer directly from your bank. If you are ordering from Europe, transferring payment directly from your bank account is the best non-bitcoin option. If you order from Australia, international bank transfer fees will be assessed on transactions not made with cryptocurrency.
Cash or Check
You can pay for your ILGM seeds by check or cash if you prefer. If you elect to pay with cash, you'll receive detailed instructions with your order on how to mail the cash to ILGM. This payment method has a good track record, with zero reports of lost cash sent to ILGM over the last year.
Credit Card
If you prefer to pay with your credit card, you are welcome to try, although there is a chance that the credit card issuer may block the transaction due to ILGM's relationship to cannabis. If you live in the U.S, you can try calling your bank before making your purchase to let them know you are expecting an international transaction (without having to reveal what you are buying) and this may help. But to ensure the easiest and least stressful ordering experience, we recommend going with one of ILGM's other accepted payment methods.

ILGM Web Experience
Getting around ILGM is a seamless experience thanks to the user-friendly layout and highly-organized approach to design. The website's home page features a small ongoing sale promotion section and the two main seed categories. You won't be overwhelmed with text, pop-ups, or promotional content.
At the top of each page, you can access the broad categories. ILGM prioritizes beginners, giving novice growers access to entire sections of the website with dedicated information and strains that are easy to grow. You'll also find easy links to best-selling strains, nutrients, popular seed categories, and a summarized about section.
Search Filters
Once you've navigated into a seed category, you can use search filters to narrow down your results. Each category is broken down into subcategories; for instance, when you click THC/CBD, you'll see the number of strains that fit the High THC, Medium THC, Low THC, and High CBD criteria. This feature is handy if you are looking for a specific type of cannabis plant but aren't sure which strains are best suited to fits your needs.
Shopping by Climate
The Climate search filter is one of the most valuable ways to shop at ILGM. Your strain category will be optimized into subcategories that fit specific climates and growing conditions. Cannabis is a highly diverse plant, and the success of a grow is dependent on choosing the right seeds. ILGM helps beginners and expert cultivators start with seeds that fit their environmental factors by tagging every strain with its ideal climate.
Choose between the following categories provided by ILGM to find strains that will flourish in your growing conditions:
Indoors
Outdoors
Continental
Temperate
Steppe
Mediterranean
Sunny
Cool
Mold Resistant
Product Pages
Once you've found a strain you're interested in, ILGM provides a wealth of specific information. Every product page has high-quality images of the mature flower, a dried nug, and seeds to set your expectations.The product pages also have detailed descriptions of the strains, providing all the information you need to decide. Some even are complimented by a strain review video from an ILGM expert.ILGM also offers multiple ways to buy each strain, so you can take advantage of an ongoing promotion, buy the strain in a variety pack, or find strains with similar properties.
ILGM's website is a treasure trove of growing resources
ILoveGrowingMarijuana is not only a great place to buy cannabis seeds, but their website, ilovemarijuana.com, is also a wonderful resource for growers. In addition to a blog full of helpful information about different strains and how to grow (and use) them, their "Marijuana Grow Bible" is available to download for free directly from their site (and it's automatically sent to you when you place an order, making ILGM seeds a truly amazing value for brand-new growers).
ILGM also has a free support forum, where customers can get their specific questions answered by expert growers. The forum is very active, and it's ILGM's best resource for your growing-related questions. Ilovegrowingmarijuana.com also features local grow guides for the United States, Canada, and Australia that allow you to drill down to your specific state or province. You can also read through detailed grow journals and explore ILGM's cannabis strain database to help you figure out which one to grow next.
When you create an ILGM customer account, you'll also be able to create a wishlist to keep track of strains to try in the future. You'll also be able to track your VIP points to see when you're due for your next discount. And, if you opted for tracked shipping, you can check on how close your latest order is to your doorstep. All in all, ilovegrowingmarijuana.com has over 500 articles, including 200 grow guides – in addition to the support forum. You really can get any imaginable growing question answered here!
ILoveGrowingMarijuana Review: In Conclusion
We highly recommend ILoveGrowingMarijuana as a place to get some of the best quality cannabis seeds, most valuable growing information, and excellent customer service around. Plus, ILGM offers the security of guaranteed discreet delivery and guaranteed germination! ILoveGrowingMarijuana is an extremely beginner-friendly seed bank that offers a well-rounded selection that experienced growers will appreciate, too. With free shipping and generous sale prices, you can grow amazing crops from ILGM seeds without breaking the bank.