Introduction
The increased concern in health-conscious pet owners has given a boom to pet products. Holistapet is amongst the top-rated brands that offer CBD pet products for cats, dogs, and horses. CBD stands for cannabidiol, which are known to interact directly with your pet's Endocannabinoid System (ECS). ECS is a cell-signaling system, which is responsible for regulating vital physiological processes such as memory, metabolism, chronic pain, sleep, cardiovascular system function, fertility, and reproduction to name a few. Cannabis is a special class of plants that are consumed for relaxing and calming effects. This plantis made up of 120 psychoactive compounds. THC (Tetrahydrocannabinol) is the primary and cannabinoids is the secondary psychedelic compound of cannabis. THC is derived from marijuana plants, which makes the pets, as we call it, 'high'. Cannabinoid, on the other hand, is drawn out from a specific form of cannabis known as 'hemp', which is considered a non-intoxicant. CBDs can be used for two main purposes. Firstly, to treat a specific illness or ailment, and secondly as a general wellness supplement to improve the hemostasis of pets.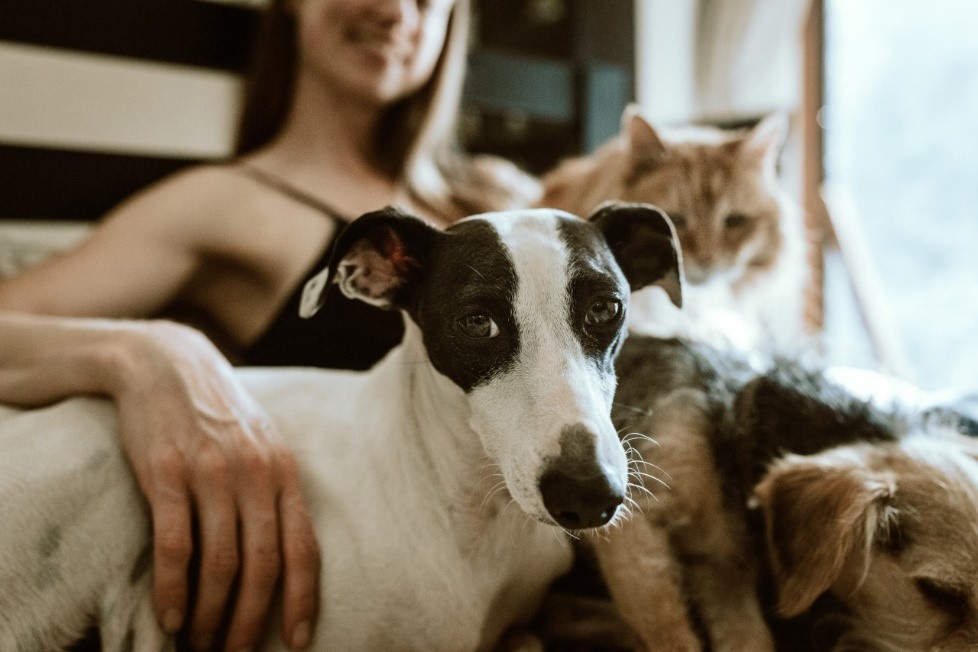 The website of Holistapet
The official website of Holistapet, where all of the products are listed for sale, has an engaging and attractive interface. It is also highly responsive and has been duly optimized which makes navigation swift and easy even with large images. The products are categorized and listed in an orderly manner depending on pet types. The description for each of the product is comprehensive yet simple. Apart from that, Holistapet also has an active customer support which can be reached out any time of the day. The Chatbot, however, is annoyingly active which continuously prompts with a sound while you are on the website, even when working on a different tab. But as they say, "one man's trash is another man's treasure", this feature can prove to be helpful for many users out there. That being said, we can conclude that the website of Holistapet is highly interactive as well as user-friendly.
The products
A wide range of CBD oils, capsules, treats for dogs, cats and Horses, are listed in the products tab of Holistapet. Furthermore, all these products have been tested and verified for purity and potency by a third party verified lab. Holistapet makes its products from 100% natural vegan ingredients, with no GMO, gluten, or animal gelatin added.
A detailed review of Holistapet products for cats and dogs is listed below:
Holistapet CBD product overview
Holistapet offers 3 types of CBD products i.e., oils, capsules, and treats. The oil and capsules come in 3 dosage options 150mg, 300mg, and 600 mg. 150 mg dosage is sufficient for smaller pets and this much amount doesn't cause any sedative effects. While 300mg and 600mg concentration oils and capsules are ideal for larger pets and for those who need higher concentrations of CBD.
1. CBD oil by Holistapet for Cats and Dogs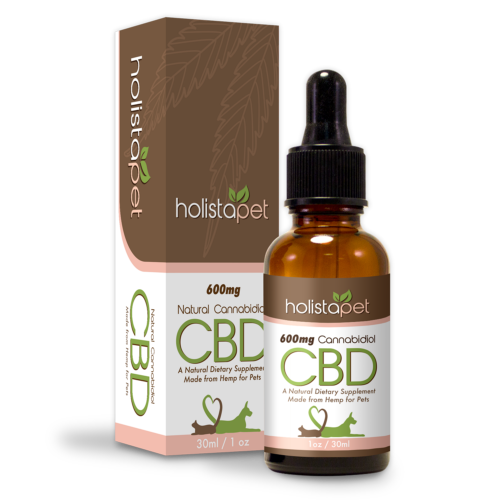 Image Source: Holistapet.com
CBD is a top of the line product designed exclusively for dogs and cats. The primary components of this oil include the CBD oil and the hemp seed oil.It comes in 150mg, 300mg, 600mg, 1200mg, and 3000mg CBD dosage options. The oil is suitable for cats and dogs from under 20lbs to over 160lbs. The oil contains a large number of vitamins such as A, C, and E, and 20 amino acids that help your pet remain calm and relaxed.The oil can be administered directly into the pet's mouth or can be mixed into the food.The price range of this oil is $25.95 — $144.95.
There are two cons noted in this product. First, a higher price in the case of larger pets. Second, it's not too good taste can be a big "No-No" for picky eaters.
2. Holistapet CBD capsules for cats and dogs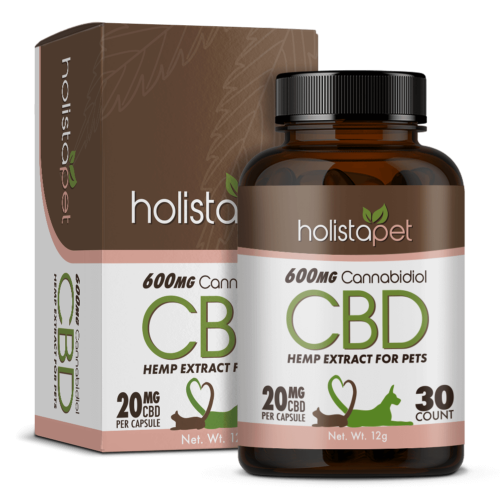 Image Source: Holistapet.com
These capsules are made of vegan ingredients with no animal gelatin, GMO, gluten, or dairy. The capsules, which are also greatly ideal for the general wellness and immune system of the pets, are formulated entirely from naturally extracted CBD and hemp seed oils. It comes in 150mg, 300mg, 600mg, 1200mg, and 3000mg CBD dosage options. The capsules are suitable for cats and dogs from under 20lbs to over 160lbs. The price range of this oil is $25.95 — $144.95.
According to the reviews of the pet owners, administering the capsule was difficult for smaller pets.
3. Holistapet Dog Treats +Heart and Immune Care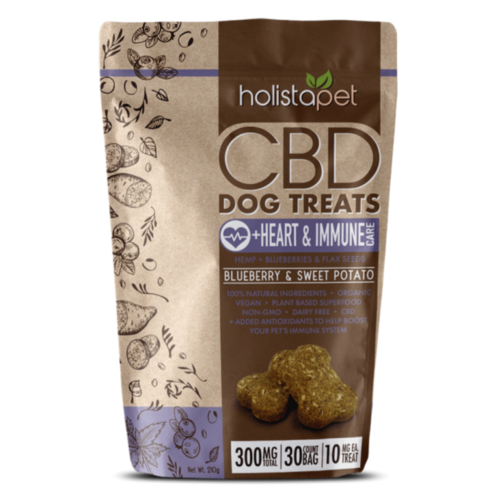 Image source: Holistapet.com
Holistapet offers a wide range of flavors in healthy treats for dogs. These treats are not only delicious but also takes care of your dog's immune and cardiovascular health along with providing a shinier coat. The active ingredients in these treats are hemp seed oil, CBD oil, flaxseeds, and blueberries. Other ingredients include sweet potatoes, brown rice flour, cinnamon, coconut oil, and molasses. They come in 150mg, 300mg, 600mg, 1200mg, and 3000mg CBD dosage options. There are 30 treats per packet containing 5mg, 10mg, or 20 mg CBD per treat. The price range is $26.95 — $64.95.
4. Holistapet Dog Treats +Joint and Mobility Care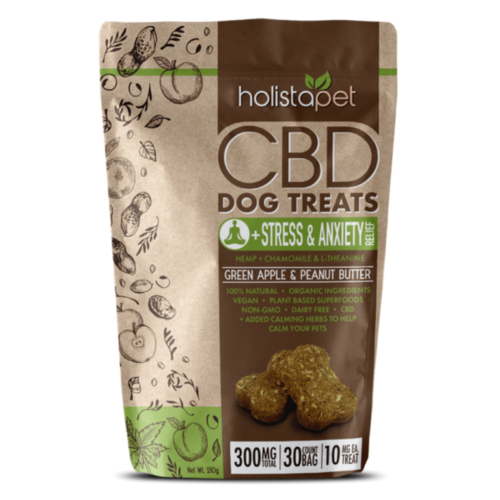 Image Source: Holistapet.com
Holistapet offers special treats that are formulated for dogs who have lost mobility due to chronic joint pain. These treats are made up of 100% natural ingredients that have anti-inflammatory properties. CBD oil helps in mitigating the pain, turmeric root is famous for its anti-inflammatory properties and Boswellia helps in tissue repair and regeneration. There are two flavors of this treat namely the cinnamon flavor and pumpkin spice. The available concentrations for these treats are 150mg, 300mg, and 600mg CBD. The package contains 30 treats consisting of 5mg, 10mg, or 20mg of CBD per treat. The price range is $26.95 — $64.95.
5. Holistapet CBD Dog Treats +Stress and Anxiety Relief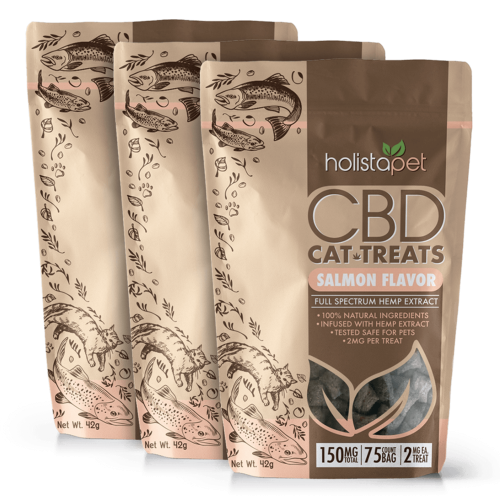 Image Source: Holistapet.com
The pets can be anxious sometimes when they face emotional issues like being separated from a family member or long trips etc. To overcome the anxiety of your pups and keep them relaxed and calm, Holistapet offers CBD-based dog treats. CBD oil is itself enriched with calming properties. Other active ingredients include L-theanine and chamomile, which are known to lower stress and decrease anxiety. The package comes in three concentrations 150mg for dogs under 20lbs, 300 mg for 20lbs-60lbs dogs, and 600 mg for dogs over 60 lbs. The price range is $26.95 — $64.95. The price is higher for the larger breeds, as they will need more dosage to get the fuller effects of CBD. Secondly, it comes in green apple and peanut butter flavor, which might be rejected by picky eaters.
6. Holistapet CBD Cat Treats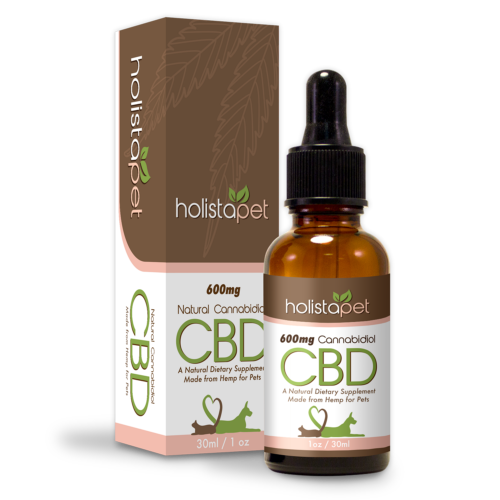 Image source: Holistapet.com
The CBD oil-based cat treats are specially formulated for cats and kittens. The smaller size of the treats and the salmon flavor are ideal for the picky-eating meows. The treats are Gluten-free, GMO-free, and dairy-free, plus there are no artificial colors or preservatives added. The package comes with 2mg CBD per treat/75 treats/150mg CBD. The price is $67.36 for 3 bags.
The cats are very sensitive to scents as they have an extra scent organ in their mouth. Catnip can be used to enhance the mood and movement of the pets. The catnip is known to cast the spell on cats as it targets the happy receptors in their brains. Holistapets offers catnip spray with additional goodness of nano CBD technology. The nano CBD technology is water-soluble and enhances the absorption of CBD, thus intensifying the CBD dose. The spay comes in easy to use bottle which can be sprayed on toys. The price is $23.95 for a 30 ml bottle that contains 20mg Nano CBD in 360 sprays.
Some cats are immune to catnip and this spray might not be effective on them. However, this product has five-star reviews on its website.
The final review
The overall wellness trend for pets has boosted the sales of CBD. However, there are some side effects of the product that need to keep in mind before using CBD oil. The possible side effects include dry mouth, drowsiness, and lowered blood pressure. It is advised by the American Kennel Club to use a minimum dose at first to check the response of CBD on your pets. The Holistapet website provides its dosage chart for pets according to their sizes. But, FDA has not approved CBD yet and therefore there is no standard dosage chart available for CBD dose in pets. There are some guidelines provided by the American Kennel Club before buying the CBD for pets:
· Look for organic products.
· Buy CBD in form of liquid or oil.
· Check that the product is verified from a certified lab and does not contain THC.
· Make sure the quality of the product is high. It should be free from additives and toxic materials like pesticides, heavy metals, and herbicides.