Introduction
We as human beings are natural in tune with nature. We feel truly at home in the wild when we are connecting with our roots and interact with the world as our hunter-gatherer ancestors once did. Being in tune with nature and an active lifestyle has shown to not only be good for our general well-being but can also increase life expectancy, our general fitness, regulate our mood and be a boon for our mental and spiritual help.
Earth Runners is a brand that wants you to reconnect with your roots and nature by giving you shoes that free your feet and rewild your soul. They have combined forces with top health pioneers and primitive experts to make the most comfortable and primal-approved earthing adventure sandals. They are vegan, contain no animal products, have low impact dyed footbeds, have ergonomic laces to keep you secure and free, contain copper and stainless steel earthing systems to ground you to the Earth, and are made with a Vibram outsoles for a responsive and sure-footed experience. They offer the best minimalist sandal experience. Inspired by the ancient Tarahumara huarache sandals, Earth Runners combine the barefoot benefits of earthing shoes with the functionality of minimalist running sandals to offer the closest thing to truly barefoot running in a one of a kind earthing adventure sandal.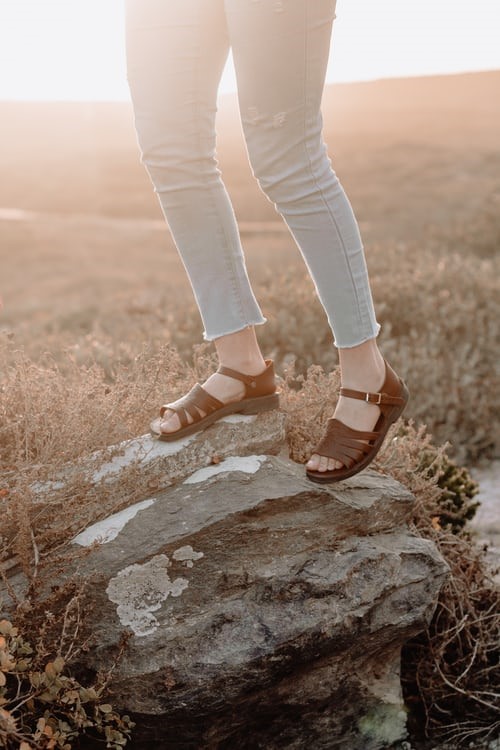 Website
The website is excellent both in terms of design and build with navigation made super easy and convenient, even for the less tech-savvy individuals. The webpage presents the story and concept behind the shoes and presents the products conveniently and cleanly. Earth Runners are not just a brand but a lifestyle, so they have blogs on running, living a healthy and active lifestyle in tune with nature, rewilding, barefoot running, and minimalist style. You can also conveniently compare products, sizes, become an affiliate, and learn about brand ambassadors.
The website when viewing products gives you the option to choose your size, lace color, and quantity very easily. Each product has a detailed description – with the weight, thickness, type of sole, footbed, and laces all accounted for -, individual reviews, info on shipping, an FAQ, and info on donations. They also recommend similar products to the ones you are currently viewing.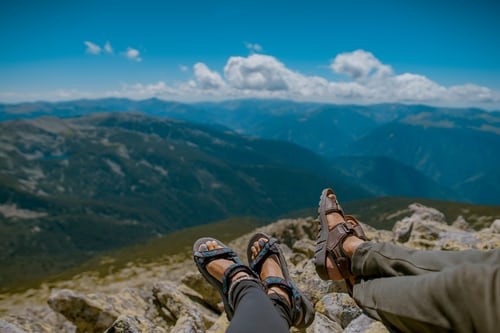 Story
Earth Runners were created to rewild our lives in response to being a typical modern domesticated lifestyle, which is causing numerous health, psychological, and social issues. Through rewilding, they aim to bring stronger, healthier, and more resilient individuals and communities back to our society.
In congruence with ancestral wisdom, it's apparent that we need to incorporate more simple nature-based lifestyle practices and outsource less of our life to modern technology. With their earth-connected sandals, they aim to aspire to restore our relationship with nature and to rediscover our primal roots.
Their mission is to reconnect with nature and reestablish healthy physical and biological functions.
The story of Earth Runners begins when the founder of the company, Mike Dally, found himself on a far-out adventure with miles of rugged terrain between him and his car. On his feet were flip-flops, pretty weak footwear to run with on the rough terrain. As an engineer and a creative tinkerer, he emptied his pack to search for tools to strengthen his sandals. Nothing seemed to work until he found an old roll of athletic tape that had been banging around in his bag for years. After some experimentation, he came up with a design he liked and took off at top speed. Not only did his impromptu sandals allow him to run with great stability, but they also took his performance to the next level! He also came across the world-renowned Tarahumara Natives of the Copper Canyons who wear huarache sandals with a simple, time-tested design for trail running. Inspired by the tribe of barefoot running legends, Mike decided to make barefoot adventure sandals that maintain our connection to the earth, while allowing us to operate and explore even the wildest landscape this planet has to offer.
Products
Adventuring Sandals
There are three types of adventuring sandals available at Earth Runners, Circadian, Elemental, and Alpha. The Circadian will keep you secure and in tune with the earth's natural rhythms at every step. The Elemental will keep you light on your feet while remaining plugged in the natural world around you. The ultra-comfortable lightweight aggressive sole will keep you wondering if you remembered to put your shoes on or not. The Alpha will keep you secure while leaving you free to flow through your environment effortlessly. Being the thickest sandal model, this is a great option for those who are new to minimalist footwear or looking to go the extra mile. The Performace laces in these adventure sandals provide ultimate security and longevity on all of your adventures.
Lifestyle
The lifestyle sandals are similar to the adventuring sandal variants in every aspect other than their focus on comfort, while the adventure sandals focus on performance. The lifestyle laces on the lifestyle sandal variants are thinner and more flexible and are ideal for maximizing comfort in everyday life. The lifestyle sandals are the ideal sandals for day-to-day use in your routine.
Children's Minimalist Sandals
Children's footwear will either weaken or strengthen a child's impressionable and growing feet. Minimalist sandals for children promote healthy foot development and preserve inherent functions. Complete with conductive earthing laces, the children's sandals encourage nature connection and provide your little ones with the best of barefoot, both physically and electrically. These are easy to slip on and off and both flexible and have zero drop. Perfect for the budding feet.
Wool Tabi Socks
These Merino Wool socks not only allow you to survive the winter but thrive! Earth Runners have been designing tabi sandal socks for 5 years now and the developments are very exciting. The midweight Merino wool blend offers superior thermo-regulating properties without sacrificing performance. If they are dry, the socks can keep your feet comfortable well below freezing. They are available in three different color variations, black, charcoal, and green.
Apparel
Women's and men's t-shirts and tank tops are also available for purchase special gift cards can be purchased as the perfect gift for any of your nature enthused friends and family.
Customer Service
Earth runners have some of the best customer services in the industry with timings open from 9 to 5. They will get back to you if you report an issue at their quickest. An inquiry can be submitted as easily as entering it in the "contact us" page of their website along with your email address and name. You can track orders and report any issues if they arise.
Customer Reviews
There are almost no complaints from the consumer side with Earth Runners as they have received a 4.8 rating out of 5 for service and product design. You will hear consumers raving about the quality of the products and creativity and versatility in the designs available for both casual and dedicated users.
David F. says, " The most minimal form of having a sole between yourself and the surface you're walking on."
Alle A. says, "They're probably the most comfortable pair of sandals I've worn!"
Michael S. says, "So convenient, comfortable, and amazingly high quality."
Conclusion
Earth Runners is a leading brand that does not compromise on comfort, function, or quality. It is the premier brand in the sandal market and for barefoot runners. It presents such a simple product with elegance and sophistication and the kind of dedication you as a consumer deserve.