At about 3 month we started noticing that the babies were drooling so much! My son, who is typically a pretty easy going baby became very fussy. My daughter who is always more vocal became even louder. I knew they didn't feel well and I was at a loss trying to figure our how to help them. One day when they were both being so fussy, drooling everywhere and running low grade fevers it occurred to me that they must be teething.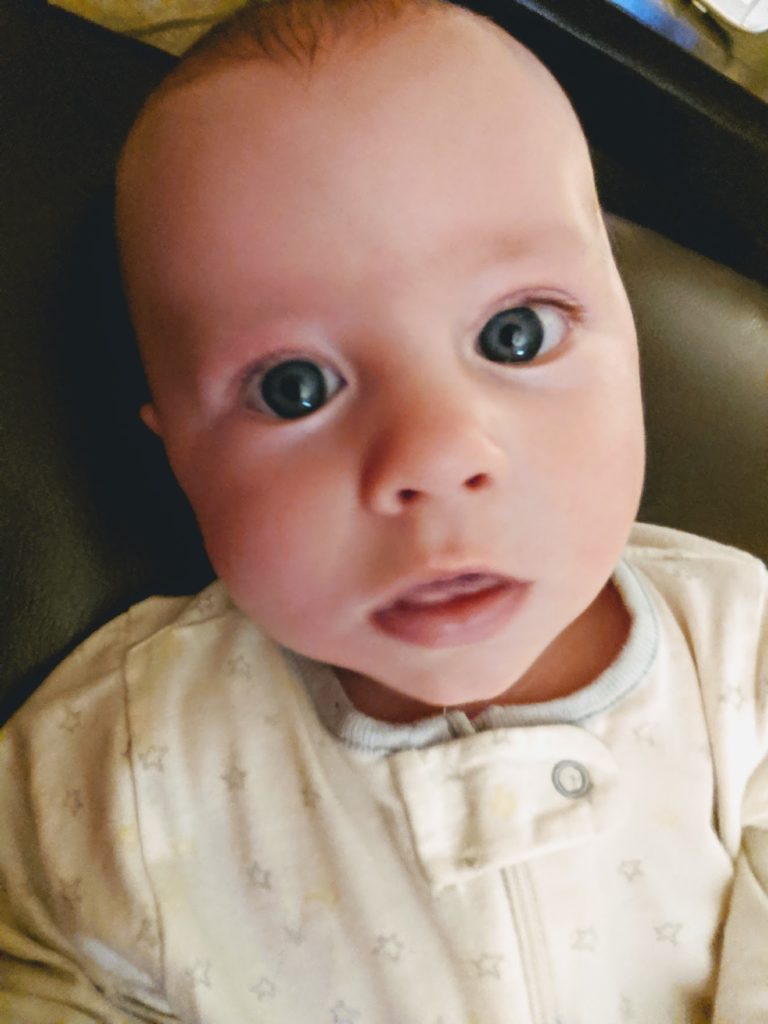 I started giving each baby Tylenol many times through out the day and was wishing I had another option. I hated medicating them so much at such an early age but, didn't want them to be in pain either. We used a teething necklace with my nephew but, I admittedly didn't know much about them, so I decided to find out more.
Shop At Baltic Essentials Today
I came across the company Baltic Essentials, and saw that they are family owned and operated, so that peaked my interest. They have a ton of options for children and adults and many different colors and styles available. Their jewelry is made from Baltic Amber which is a resin that falls from the coniferous tree found in the Baltic region. They also use different stones that help with other aliments as well, such as anxiety, arthritis, depression and chronic pain.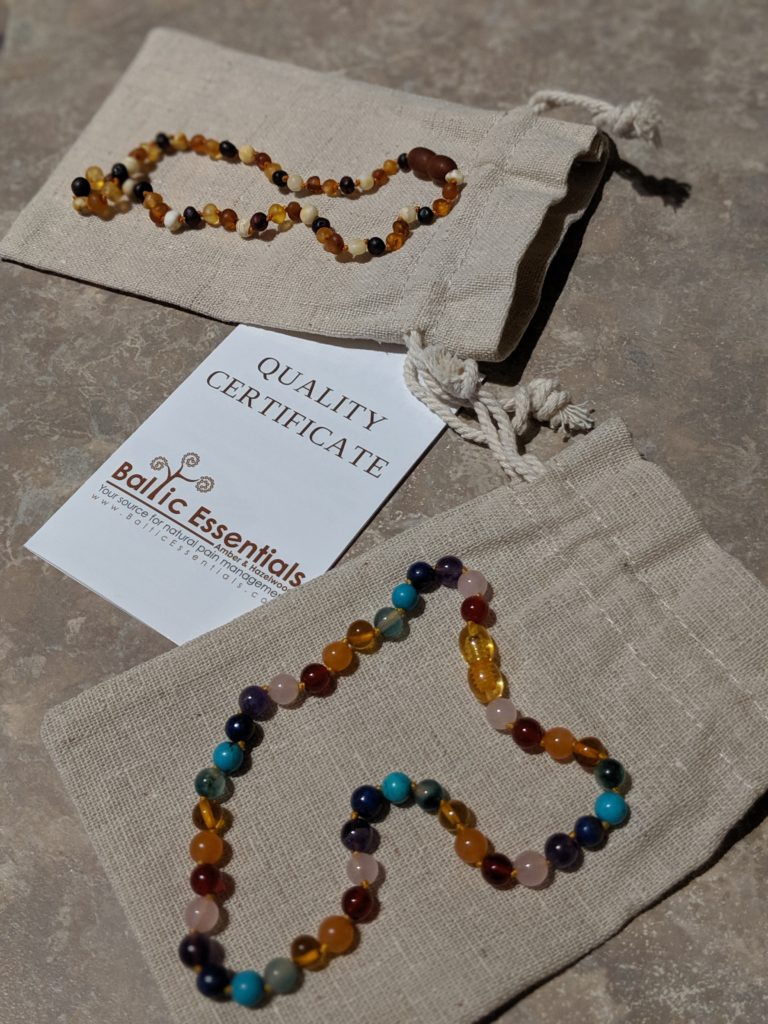 So how do teething necklaces work? The amber resin releases a substance called succinite which enters the bloodstream through the skin and helps to calm the discomfort of teething symptoms. The other stones used in the necklace give off an energy that helps to alleviate other aliments and promote a sense of calm and well being.
I know safety is a concern especially when it comes to jewelry and babies. Here is my opinion, don't let your infants sleep in the necklaces or any jewelry and when they are wearing the necklaces just keep an eye on them. As far as the succinite goes, I have not found any information that says this is not a safe option for infants or adults.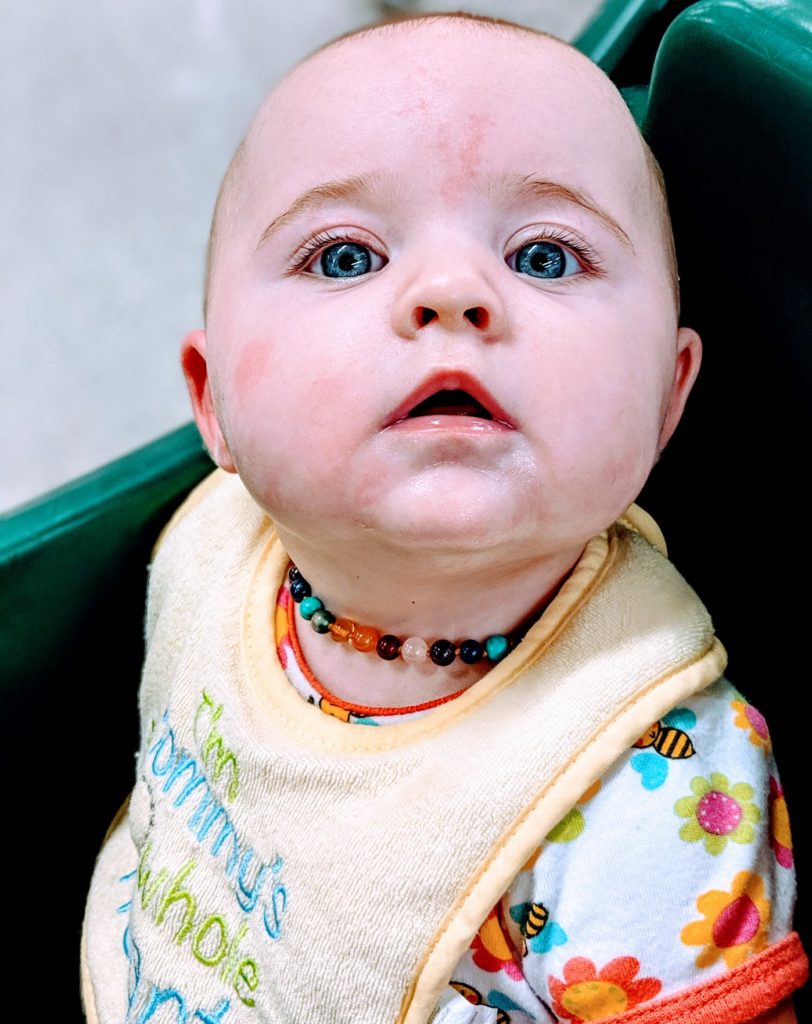 My daughter wearing her Baltic Amber Teething Necklace
Both babies have been wearing their necklaces every day for more than a month now. On the first day of wearing the necklaces my son stopped drooling with in the first hour. Drool wasn't a huge issue for my daughter, but what little bit we did notice with her has stopped. Over the last three weeks the drool has continued to be much less while the babies are wearing their necklaces. When we take the necklaces off the drool starts running like a fountain with in 10-15 minutes. It's kinda crazy the noticeable difference it makes.
With in the first week both of my kids fussiness reduced significantly. My son had been very fussy previous to wearing the necklace and he barely fusses at all now. My daughter is still fussy but, I think it's because she gets tired not necessarily because of the teething. Both kids have run very slight fevers so I'm not sure how much the necklaces effects that.
Just last night we were shopping and I had my son in the shopping cart and I was letting him chew on my fingers to keep him preoccupied. He chomped down and I felt something sharp on my finger. I pulled his little lip down and saw not one but, two teeth had popped through his gum. I was shocked because he's been so good, just a little fussy here and there, I believe that these necklaces are making a huge difference in my kids comfort level through the teething process!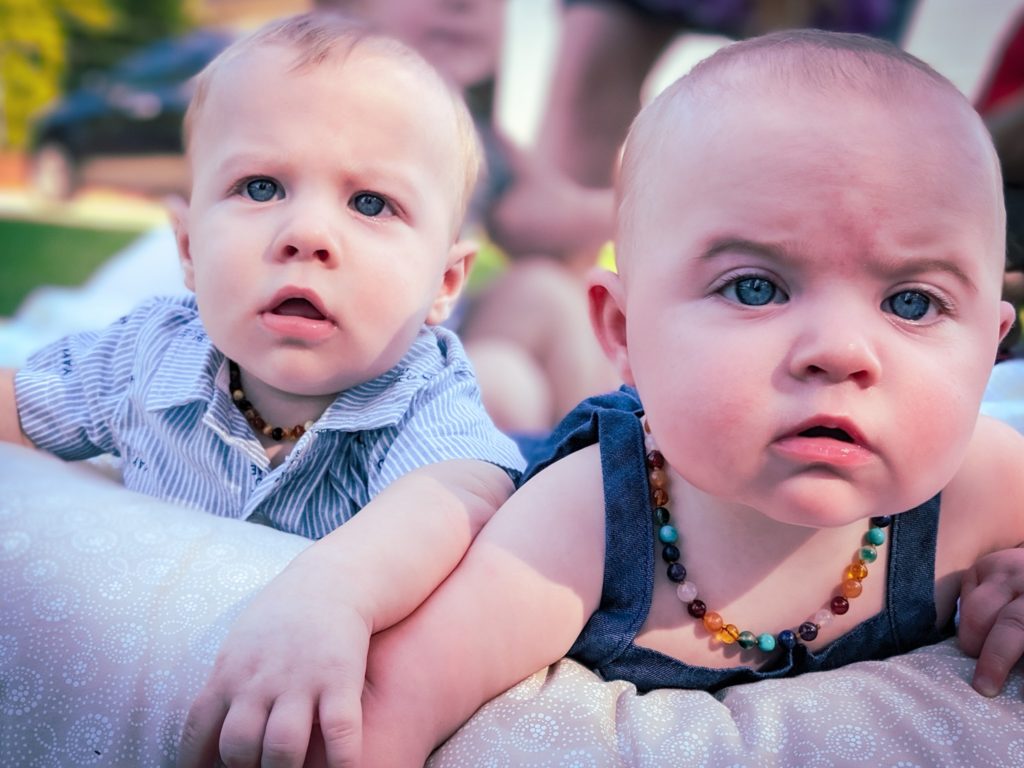 I am very happy with my Baltic Essential purchase. These necklaces are the real deal when it comes to natural pain relief. I have seen differences in my kids since they started wearing them. It's comforting to know that there is a natural option for pain relief with out having to constantly give my kids medicine. Not only do they work very well they are super cute, the colors are beautiful and they match any outfit.
If you would like to try one for your little love, you can use this link below to make your purchase. I will get a small commission when you use this link as I am an affiliate for the company however, my opinions are my own and I do not support anything that I have not tried and believe works. Thank you so much for supporting me and this blog!